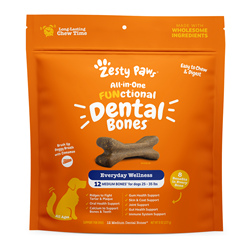 Our easy-to-chew and flavorful All-In-One Functional Dental Bones™ support oral health, fresh breath, and provide broader functional benefits for dogs to holistically address a pup's gum health
ORLANDO, Fla. (PRWEB) November 01, 2022
Zesty Paws®, an award-winning functional pet supplement brand, is excited to announce a new product in the dental category for dogs, the All-In-One Functional Dental Bones™.
Made with wholesome ingredients like sweet potato flour, turmeric, and cinnamon, as well as EpiCor® Pets, the All-In-One Functional Dental Bones™ deliver eight key benefits to support oral health, gum health, skin and coat, joint, and gut health, as well as immune support. The treats feature ridges to fight tartar and plaque, while also supporting oral health and fresh breath, and are offered in a dog-approved flavor in small, medium, and large sizes to provide head to tail support for breeds of all sizes. In honor of this new category launch, Zesty Paws will be offering 20% off the Dental Bones collection from November 1 through November 30, using the checkout code DENTAL at zestypaws.com.
"Consumer research* validated that 91% of pet parents agree that healthy teeth and gums are essential to their dog's overall good health and wellness, and 67% believe current dental bones in the market are good for dog's teeth, but they wished they had other health benefits. Our easy-to-chew and flavorful All-In-One Functional Dental Bones™ support oral health, fresh breath, and provide broader functional benefits for dogs to holistically address a pup's gum health," said Yvethe Tyszka, Vice President of Marketing for Zesty Paws. "We're excited to bring this outstanding solution to pet parents under their trusted brand Zesty Paws."
Zesty Paws is also hosting a "Dig Up the Bones" sweepstakes on their website to commemorate the launch of this new product. The month-long sweepstakes will prompt participants to locate eight hidden Dental Bones images throughout the Zesty Paws website, with three winners eligible to win a full year supply of Dental Bones. For more information and to view the complete Official Rules including how to enter, eligibility and the winner selection process, visit zestypaws.com/diguptheDB.
For more information about Zesty Paws, visit http://www.zestypaws.com or follow the brand on Facebook (@ZestyPaws), Instagram (@ZestyPaws) and TikTok (@Zesty.Paws).
About Zesty Paws®
At Zesty Paws®, our passion is simple: to enable and inspire a ZEST FOR LIFE in pets and pet parents. We strive to be the most innovative and trusted brand in functional supplements to guide and empower pets on their wellness journey. Zesty Paws products have over 275,000 5-star reviews combined on Amazon, Chewy and Zestypaws.com** and have been regularly recognized as bestsellers on Amazon. Knowing that pet parents love to spoil their pets, we take pride in our commitment to striving to provide innovative and high-quality pet supplements, as well as unparalleled customer service. Zesty Paws® has been recognized by Newsweek as one of America's Best Petcare Brands in 2022 in the Digestive Support for Dogs category. For more information visit ZestyPaws.com or follow along on social media on Instagram, Facebook, or TikTok.
*Acupoll Quantitative Research October 2021. N=506
**Ratings and reviews based on all Zesty Paws® supplements on Amazon, Chewy and ZestyPaws.com via Power Reviews as of May 31st, 2022