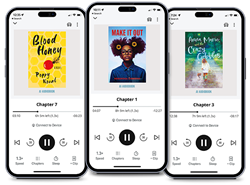 Only about 5% of print books are available as audiobooks. Our goal is to create one million audiobooks in the next few years, and there is no better partner than BookBaby when it comes to working with authors who self-publish.
PENNSAUKEN, N.J. (PRWEB) November 15, 2022
Today BookBaby, a leader in self-publishing, and Speechki, a company that uses artificial intelligence to create audiobooks with synthetic narration announced a partnership that will allow BookBaby authors to create audiobooks quickly and economically and sell them through the BookBaby Bookshop while earning industry leading payouts.
"Everything we do at BookBaby is focused on positioning authors to win readers in the marketplace," said James Foley, BookBaby President. "Core to that mission is making sure authors get paid the lion's share of money for their book sales. Our program allows authors to set the retail price for their audiobooks and when their book sells, they will earn 75% of the list price. For example, if the author sets the retail price of their audiobook at $19.99, they will earn $14.99 per sale. This is a game changer for authors and publishers looking to sell their audiobooks, since the de facto industry commission for audiobooks today is in the range of only 40%. Why should the retailer get 60% of the profit when all they do is list the book on an ecommerce website?"
The audiobook market is growing in the US and around the world. The US audiobook market has grown to 2 billion dollars; and, according to the American Publishers Association, audiobook revenue could surpass eBook revenue as soon as 2023. Foley says, "Audiobooks are now a must have format for anyone publishing books. With this partnership we have solved the biggest challenges blocking authors from entering the market. It's no longer expensive or difficult to make audiobooks. Authors upload their manuscript, select one of 77 languages, and choose between 30-50 synthetic voice actors. And the narration sounds great–pretty much indistinguishable from human narration–in fact, better than some of the human-narrated audiobooks I've heard and at a fraction of the cost! We do all the work and issue an audio proof in just 5 days."
The BookBaby BookShop is a robust selling platform that arms authors with powerful marketing and analytics tools including real-time user activity on the product pages, real-time sales reporting, couponing, email list building, landing page customization options, and digital advertising programs.
Foley said of the partnership, "We are excited to add this new revolutionary audiobook program to the suite of services we already provide to authors. As audiobooks continue to grow in importance, we want BookBaby authors to reach audiobook fans in the same way they reach print and eBook readers. Speechki is the perfect partner for us and our authors. After initial AI narration, a human being listens to every audiobook proof and authors can make free corrections as part of this service if there's something about the audiobook narration they don't like. We remove all the complication of finding the right voiceover talent, negotiating a fee, and arranging how and where to record and edit the audiobook. Our partnership with Speechki makes it all super simple and affordable."
Speechki's audiobook production technology offers publishers in the US, and all over the world, a new way to produce audiobooks. Speechki offers over 400 voices in 77 languages and dialects, and provides AI and human proof-listening, and free corrections, as part of its service. It can produce audiobooks quickly and at a small fraction of the cost of traditional production.
Speechki CEO Dima Abramov said, "Speechki is delighted to partner with publishers large and small. Only about 5% of print books are available as audiobooks. Our goal is to create one million audiobooks in the next few years, and there is no better partner than BookBaby when it comes to working with authors who self-publish."
About BookBaby
BookBaby is where writers become authors. Our mission is to take the hard work out of self-publishing: From book printing, eBooks, book distribution, book cover design, professional book editing, marketing services, and now audiobook products, BookBaby has everything today's indie author needs to succeed. Since 2011, we've helped tens of thousands realize their self-publishing goals, backed by our 100% satisfaction guarantee.
Best of all, you can call us at 1-877-961-6878 and talk through the process with a real human being—usually a fellow writer who is invested in the success of your book.
For more information about BookBaby please contact:
Daniel Baker, VP of Marketing
dbaker@diymediagroup.com
(800) 468-9353 x5194
About Speechki
Speechki is an audiobook recording platform to scale publishers' audiobook inventories by several times using synthetic voices. We do for audiobook production what Ford did for car manufacturing.
For more information about Speechki please contact:
Bill Wolfsthal
bwolfsthal@gmail.com