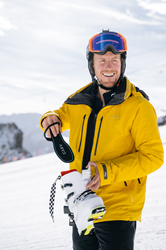 "Train with an Olympian" is designed to help skiers of every level transform their technique, with personalised coaching from two-time Olympic gold medalist Ted Ligety along the way.
LONDON (PRWEB) November 01, 2022
Today, two-time Olympic gold medalist and five-time World Alpine Ski Champion Ted Ligety announced a new partnership with Carv, the world's first training system that measures skiing in real time. Together, they have developed a new programme called "Train with an Olympian," which is designed to help skiers of every level transform their technique, with personalised coaching from Ligety along the way. Skiers can subscribe to Carv from $199 (£149) per year plus the $199 (£199) one-off device cost. This includes unlimited access to Ligety's training, Carv's groundbreaking real-time audio coaching, video coaching, and library of off-snow content.
A magnetic personality on the snow, Ligety has been a respected provocateur, spending his life perfecting the ski turn, reshaping the technique used across the sport and winning medals in the process. Ligety developed a revolutionary technique on the snow that made him unbeatable. He now wants to help skiers across the world improve their technique and ski expertise as part of his partnership with Carv, the world's most powerful digital ski coach.
"It's my mission to make skiing more accessible and fun," said Ted Ligety. "I've spent my whole career pushing the limits of what's possible on skis, and with this partnership I have put that experience into a programme that most skiers can follow. Our goal was to develop a real-time coaching experience that helps a wide range of skiers make the kind of turns they could only dream of."
The "Train with an Olympian" programme includes:

Increasingly challenging levels to develop technique
Real-time audio coaching, drills and concepts, built by Ligety, giving the advice of a master, every step of the way
Comparison of turns to data captured from Ligety's own skiing to see how close one can get to the famous Olympian's turn
"We are always looking to find the world's best coaching advice and bring it to our members," said Carv CEO Jamie Grant. "We couldn't be more excited to work with Ted—he's changed the game as an athlete and now he's able to change the game as a coach by combining his ideas with the Carv platform. We are excited to blend the power of Carv's real-time feedback with Ted's incredible expertise to create our best training programme yet."
"I've been amazed by the accuracy of the Carv system, but also how the Carv technology helps skiers around the world through digital coaching," continued Ligety. "What is particularly exciting is that we have been using Carv's database of 200 million turns to look at how skiers will respond to the training, using specific metrics to measure and teach the perfect turn."
Also new to the 2022/2023 membership is the "Carv Video Coach." With 13 different metrics measured on every turn, Carv is the most accurate analytics system available to skiers. But the brand wanted to take it one step further this year. New for this season, Carv will be breaking out of the ski boot. Members will now be able ask anyone to record video of their skiing (the video-taker doesn't need to be a member), overlay their Carv data (synchronised frame by frame) and share their best turns on social media.
"Our mission is to unlock the thrill of a great turn for as many skiers as possible," continued Grant. "We've spent years making this incredible analytics tool, but people learn faster by seeing what's happening. We wanted our skiers to be able to match the data from Carv with a visual of how they look. We have built this incredibly powerful coaching system where you can match the feeling of a great turn with your Ski:IQ and see where you skied at your best. But maybe the best part is you can really claim those bragging rights by sharing it with your friends."
The Carv app is available to download in the App Store and on Google Play. A Carv membership and device are available for purchase at https://getcarv.com/. Six day passes start at $99 USD (£79), an unlimited membership costs $199 USD (£149) per year, and an unlimited two-year membership costs $149 USD ((£99) per year.
Media wishing to interview Carv personnel should contact PR agent Borjana Slipicevic at borjana@properpropaganda.net.
About Carv: Carv is the world's most powerful digital ski coach (and now the world's biggest ski school by hours taught), praised by The Financial Times, The New York Times, and The Times (UK). The device consists of ultra-thin inserts (concealing 72 pressure and motion sensors) fit into any ski boot and a coaching membership that is delivered via the Carv app. 13 different metrics are measured on every turn, including Balance, Edge Angle, Turn Shape and Outside Ski Pressure, giving Carv skiers an objective way to analyse their technique. Skiing with Carv is like having a world-class ski instructor in-ear. Carv gives skiers real-time audio feedback during each turn, personalised skiing tips on each chairlift and detailed analysis every time they stop. Carv members also get access to videos, articles, drills and workouts, made with the world's best ski instructors so they can improve their skiing, on and off the mountain. Carv is an official partner of the Professional Ski Instructors of America, and the Canadian Ski Instructors' Alliance.
About Ted Ligety: Ted Ligety, a Park City, Utah local, has been skiing since he was two years old. In 2003, Ligety joined the U.S. Ski Team and his career took off. He became an overnight sensation, winning Olympic gold in the alpine combined at Torino in 2006 aged only 21. After that he went on to podium in all major FIS Ski World Cup events, including slalom, giant slalom, alpine combined, super-G and downhill. Ligety is still the only American man to win two Olympic gold medals in Alpine skiing. Ligety has been a disruptive force in the industry, reshaping the style of his turn, creating a wide margin between him and the competition. His magnetic personality and passion for engaging generations of skiers continues to leave its mark on the industry. He is partnering with Carv to bring olympic-level coaching to every skier on the mountain.