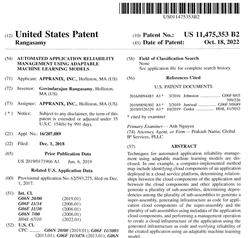 "Appranix team is very pleased that USPTO issued the patent underpinning our core continuous learning SaaS platform that rebuilds whole application environments hyperfast from an immutable cloud time machine in any region at any point-in-time," said Govind Rangasamy, founder and CEO of Appranix.
BOSTON (PRWEB) November 02, 2022
Appranix, a cloud application resilience leader, has been awarded the patent US11,475,353 titled "Automated Application Reliability Management Using Adaptive Machine Learning Models," which underpins the capabilities of Appranix's cloud application resilience SaaS platform. The patent was granted on October 18th, 2022, and valid for a term of twenty years from the provisional filing date.
The patent further differentiates Appranix's core capabilities from traditional infra-centric BCDR models created with data centers in mind. As organizations transform their businesses utilizing hyperscale cloud platforms, organizations realize that distributed, dynamic, and auto-scaling application environments, with programmable infrastructure, require a new type of application resilience to protect and recover from cyber disasters, cloud disruptions, and simple human errors.