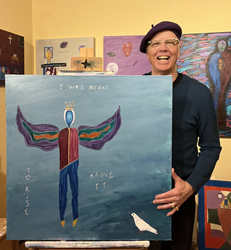 "For me as a painter, this exhibit at Legends Gallery of La Jolla is a dream come true," Robinson says.
SAN DIEGO (PRWEB) November 02, 2022
Michael Robinson, an award-winning former reporter and Pulitzer Prize nominee turned visual artist, is having several his cutting-edge original contemporary paintings shown at Legends Gallery of La Jolla.
Robinson will be at the gallery on Dec. 2 for the First Friday La Jolla Art Walk starting at 5 PM. The exhibit runs through the end of January, 2023.
This is the second major art exhibit for Robinson. He previously had a one-artist show at the Town Hall Theater Gallery in Lafayette, CA last May.
To say that Robinson, 66, has followed a circuitous path to becoming a rising star of California's contemporary art scene is an understatement.
Before getting into the visual arts at age 60, he spent years as a Bay Area rock and blues musician, releasing four CDs and playing more than 100 live shows. He's been featured in more than a dozen California newspapers as well as in the New York Times and Wall Street Journal.
Armed with a playful attitude, Robinson's becoming known for a deceptively simple style imbued with hidden meanings and cultural references, often quoting titles or lyrics from rock music.
His Legends Gallery exhibit builds on that reputation with paintings like "Dance Cadaverous," a Warhol-style riff on Picasso and punk rock, and "Ansonia Takes An Aria," the story of lost love that quotes a seminal lyric from the hard rock band Three Days Grace.
"As a painter, this exhibit is a dream come true," Robinson says. "My wife and I started our serious art collecting years ago at Legends Gallery. So, I feel like my artistic journey is coming full circle."
Highly regarded for his love of big ideas and for his bold color schemes, Robinson counts as his major influences Basquiat, Kandinsky, Miro, and Klee.
Legends Gallery of La Jolla is located at 1205 Prospect Street Suite B. For specific operating hours, please visit the website or phone 1-858.456.9900. Robinson's reprints and merchandise are displayed on his website. You can follow Michael on his Instagram account: @michaelrobinsonart.