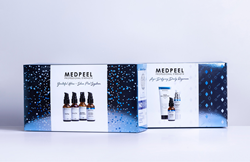 POMPANO BEACH, Fla. (PRWEB) November 02, 2022
MedPeel, an industry leader known for combining cosmetic excellence and scientific expertise to provide professional-strength skin care and skin peels is launching 2 Limited Edition Holiday Kits this season. Each glow-boosting skin care kit comes with a high-quality, reusable, travel pouch.
MedPeel's 3-Piece Age -Defying Daily Regimen- $76 ($102 value) features 3 full size products- Skin Balancing Cleansing Gel, Hydra-Plump 2.5% Hyaluronic Serum and Advanced Repair Daily Moisturizer. These products work together to smooth fine lines and wrinkles, deliver long lasting hydration, improve texture and boost skin's luminosity for healthy, younger-looking skin.
MedPeel's 4-Piece Youthful Glow Skin Peel System- $69 ($92 value) features a Medium Strength Fusion Skin Peel which is formulated with multiple exfoliating acids and fruit enzymes to target dullness, fine lines and discoloration for a visibly, brighter complexion. All skin types and tones can benefit from this high-performance peel. This set comes complete with the Peel Prep, Neutralizer Solution Spray and Hydra-Plump 2.5% Hyaluronic Serum to achieve optimal results at home.
For more information about Medpeel's limited holiday edition kits or to learn more about MedPeel specialized skin peels, skin care treatments, and clinical strength skin care products, visit http://www.medpeel.com or contact MedPeel at 855-867-7335 (9am-5pm EST).
About Medpeel - Medpeel was established by skin care professionals to provide high quality, specialized skin peels and skin care treatments, with a focus towards expedited delivery and exemplary customer service. With over 20 years of skin care experience and a highly qualified group of estheticians and physicians on staff to help, Medpeel provides high quality, specialized skin peels and skin care treatments that can be safely performed by clients in the comfort of their own home. Medpeel products are made in the USA and are formulated in a GMP and FDA compliant laboratory where quality control is maintained according to industry operating procedures. For more information, visit http://www.medpeel.com
Maria Llanso
PR Contact
Kira Labs, Inc.
Email: maria.llanso@kiralabs.com