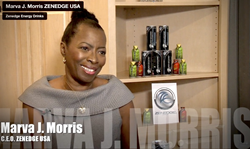 "We are so excited at ZenEdge on being selected as the first place winner at Ben Franklin Technolgy Partners 2022 Contest. There were so many participants with terrific products and concepts. The cash prize will help to fund ZenEdge products."
ERIE, Pa. (PRWEB) November 03, 2022
Premier Manufacturing LLC - Zenedge™ Energy Drink announced today that it was named the winner of a cash prize of $15,000 with Ben Franklin Technology Partners 2022 Big Idea Contest for Agriculture, Food & Beverage Industries. The contest offers start-ups and entrepreneurs some much-needed seed funding, as well as business training, pitch experience, and industry contacts – often more valuable than the prize money itself.
Dr. Marva Morris, DD an accomplished entrepreneurial woman and veteran of the corporate world. She is recognized as the first and only African American female in the country who has headed a manufacturing facility for blow molding located in Michigan state. The factory produced plastic products for the food, beverage, household, automotive aftermarket, and ethnic hair care industries. In addition to owning and operating her 65,000 square-foot factory in Michigan, one of her most rewarding projects was in 2001 when she led a contracting team to install 25% of the plastic seating for the fans and patrons in the Pittsburgh Pirates' stadium, PNC Park.
Marva Morris, Founder and CEO of Zenedge™ Energy Drinks commented, "we are all so excited at ZenEdge that we were selected as the first place winner at Ben Franklin Technolgy Partners. There were so many participants with terrific products and concepts. The cash prize will help to fund ZenEdge products."
Marva adds, "ZenEdge™ is a better-for-you energy drink with great taste, less caffeine, and less sugar. A healthy alternative brand. Zenedge has less caffeine than any of the major brands. It has an awesome taste with simple ingredients without all the chemicals. ZenEdge gives you the "Edge" you need and the flavor that you will actually enjoy!"
Marva Morris is a highly admired entrepreneurial woman with a passion for bringing good-tasting and healthy beverages to the marketplace for consumers around the world.
-30-