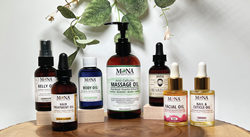 We believe no one should have to sacrifice their safety for their personal care goals. Our products are designed to be effective without the use of harsh filter chemicals.
TAUNTON, Mass. (PRWEB) November 03, 2022
MONA BRANDS, a company that is dedicated to offering clean, plant-based, and environmentally friendly beauty and personal care products, has announced the expansion of its product line to include new hair and skin oils, new deodorant options, and a product bundle especially formulated for hockey players and athletes.
"We are happy to address the growing demand for plant-based alternatives for everyone's self-care needs," said Dr. Pinaki R. Majhi, the president and CEO of MONA BRANDS. "We are confident that our new products will exceed the expectations for what effective, natural personal care products can do."
Their new deodorant lines add more specified products that cover a wider range of deodorant needs: more underarm deodorant options (including a new line for men), deodorant foot balm, deodorizing spray, deodorizing body butter (which features whole body coverage, including intimate areas), and hand deodorant. The company has also introduced a wide selection of oil products, including facial oil, hair oil, nail and cuticle oil, body oil, massage oil, and more. Included in this new oil line is their Belly Oil, a natural solution for treating the skin for pregnant and postpartum mothers.
Their Ace Player bundle offers products specifically designed for hockey players on and off the field. Their new Deodorizer Spray helps eliminate odors on sports equipment and many surfaces (and its safe on skin), and their Hand Deodorant Balm for Ace Players keeps hands smelling fresh while wearing gloves. Also included in this bundle is Hockey Wax that protects blades on hockey sticks and prevents ice buildup.
"For the last four years, our team has spent so much time and research into formulating these new products," said Dr. Majhi, "Our hope is that, by broadening the scope of what we offer, more people can become introduced to safe and effective alternative personal care products for themselves and their families."
Founded in 2017 by Dr. Pinaki R Majhi, who has over 25 years of experience in product development, manufacturing, and scientific research with a strong background in pharmaceutical and colloid chemistry, MONA BRANDS offers 100% natural and/or plant-based products for people of all skin types and needs. All their products are 100% vegan, hypoallergenic, non-GMO, and free from harsh chemicals like Aluminum, Parabens, Sulfates, and Artificial Fragrances, and more. Customers can use their products with confidence knowing they are completely safe to use, have zero or minimal impact on the environment, and were developed by an industry veteran with decades of experience. All Mona Brands products are available at https://www.monabrands.com
Please visit MONA Brands Social media profiles:
Instagram: https://www.instagram.com/MonaBrandsNatural/
Pinterest: https://www.pinterest.com/MonaBrandsNatural/
Facebook: https://www.facebook.com/MonaBrandsNatural/
Twitter: https://twitter.com/MONABRANDS
LinkedIn: https://www.linkedin.com/company/mona-brands-llc/