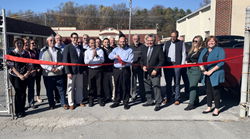 WAYNESBORO, Pa. (PRWEB) November 09, 2022
Guardian Booth, a leading manufacturer of prefabricated booths and customized workspaces, has finalized its acquisition of Homes by Keystone manufacturer of modular homes. The company has fully acquired the former Homes by Keystone location and will begin operations at 13338 Midvale Road, Waynesboro, Pennsylvania.
Guardian Booth is building its team by creating new jobs in the Franklin County area. Along with the help of former Homes by Keystone employees, Tim and Jason Miller joining forces with the founder and Chief Operating Officer Abraham Taub (abraham@guardianbooth.com) as the company works to expand with plans to ramp up infrastructure, increase production capabilities and streamline processes, Guardian Booth's growth potential is limitless.
"I couldn't be more proud of the Guardian Booth executive leadership and their execution of acquiring Homes by Keystone and relocating our headquarters to Waynesboro, Pennsylvania," stated Abraham Taub, Chief Executive Officer and Owner of Guardian Booth. Abraham continued to say, "I am so grateful for all the support the Wolf Administration has provided and I look forward to the positive impact Guardian Booth will have on the local community."
The company held an event on Thursday, November 3rd, 2022, to celebrate the merger with their fellow employees, community leadership, and Deputy Secretary Hanna from the Wolf administration. The event honored the Homes by Keystone team members and their years of service to the organization, along with a ribbon-cutting ceremony to celebrate the grand opening of the Waynesboro, Pennsylvania location.
For more information about Guardian Booth and the services they offer, you can visit their website http://www.guardianbooth.com, email info@guardianbooth.com, or by phone at 844-99-BOOTH.