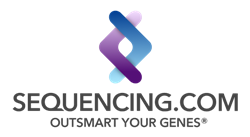 Within the next 5 years, we expect that between 100 million and 2 billion human genomes will be sequenced. This capital raise allows us to rapidly expand our unique solutions that unlock the true value of genetic data and directly empower the individual
LOS ANGELES (PRWEB) November 08, 2022
Sequencing.com, the leader in direct-to-consumer DNA interpretation, has raised $5 million in venture capital financing. The financing is led by Lerer Hippeau and includes Red Sea Ventures, Global Founders Capital, XRC Labs, Correlation Ventures, Red Antler, Mucker Capital, and Gaingels.
"Within the next 5 years, we expect that between 100 million and 2 billion human genomes will be sequenced. This capital raise allows us to rapidly expand our unique solutions that unlock the true value of genetic data and directly empower the individual," said Dr. Brandon Colby, Chief Executive Officer and Founder of Sequencing.com. "We are extremely excited to be working with proven consumer-centric investors who support our broader mission of providing everyone with the ability to outsmart their genes."
Building Upon State-Of-The-Art DNA Technology
The new round of funding will allow Sequencing.com to continue to build upon and enhance its DNA technology, which includes adding 30x whole genome sequencing service with the fastest direct-to-consumer turnaround time. In addition, the company offers the largest marketplace for DNA analysis and reports in the world, featuring over 100 apps and growing.
"Sequencing.com's offering makes whole genome analysis accessible and affordable for the first time," said Caitlin Strandberg, Partner at Lerer Hippeau. "These developments will usher in a new wave of personalized and preventive healthcare that prioritizes privacy and security. We look forward to seeing what the Sequencing.com team unlocks in terms of long-term discoveries that will impact how humans understand themselves and their health and wellness."
Sequencing.com has also recently upgraded its two popular proprietary applications, Genome Explorer and Next-Gen Rare Disease Screen. Genome Explorer is the first online browser and search engine for genomes that allows customers to easily access information and the latest research relevant to their DNA data. Next-Gen Rare Disease Screen gives customers the option to screen their genome for the risk of thousands of rare diseases, conditions, and traits.
Helping Customers Outsmart Their Genes
Dr. Colby saw the need for a business model that offers direct-to-consumer DNA technology more than 15 years ago when he was practicing personalized preventative medicine in Los Angeles. The reactionary nature of healthcare in the United States caused him to turn to the latest groundbreaking developments in genetic technologies as the solution to the ongoing problem of expensive and often ineffective medical intervention. In 2014 he founded Sequencing.com as a way to facilitate access to genetic services for all people.
"Understanding your own genome allows you to outsmart your genes and live a longer, healthier life," Dr. Colby said. "We are now at a critical turning point where whole genome sequencing has become increasingly affordable for more people. Sequencing.com is the safe, secure place for everyone to store their genetic information and receive beneficial, lifelong guidance based on their DNA."
—-------------------------------------------------------------------
About Sequencing.com
Sequencing.com provides everything the customer needs to easily access and understand their genes. This includes free, unlimited storage of DNA data as well as unique tools and enhanced reports that transform DNA data into clear solutions for better health.
Their team consists of US medical doctors, geneticists, bioinformatics experts, and software developers. While their backgrounds are diverse, they all share a passion for creating innovative solutions designed to help their customers live healthier, happier, and longer. Learn more at Sequencing.com.
About Lerer Hippeau
Lerer Hippeau is an early-stage venture capital firm founded and operated in New York City. Since 2010, they have invested in entrepreneurs who embody this city's audacity, endurance, and winning mindset — good people with great ideas who aren't afraid to do hard things. Their portfolio includes more than 400 leading enterprise and consumer businesses including Guideline, MIRROR, Blockdaemon, K Health, Allbirds, ZenBusiness, and Thrive. They're experienced operators who invest early and stay in our founders' corners as they build iconic companies. Learn more at lererhippeau.com.