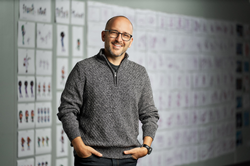 "The Jolliest Elf is full of love, wonder, silliness and fun – I am so excited to help Santa transport these wonderful kids up to The North Pole to experience some of the magic!" -Chad Eikhoff
ATLANTA (PRWEB) November 07, 2022
Chad Eikhoff and his 3D animation studio, TRICK 3D, are delivering jolly, holiday cheer to kids and families this holiday season with "The Jolliest Elf - Elves on Tour," an immersive 3D animated Virtual Reality (VR) short, featuring music from The Jolliest Elf Original Soundtrack and characters from the The Jolliest Elf (available on Amazon Prime Video). "The Jolliest Elf - Elves on Tour" special will be broadcast this December inside of Children's Healthcare of Atlanta locations that house Seacrest Studios, a broadcasting media center for patients to explore the creative realms of radio, television and new media. In select locations, the VR version will be screened using virtual reality headsets from Pico Immersive.
TRICK 3D, partnering with Seacrest Studios, will host two special events - one at Children's Healthcare of Atlanta - Egleston Hospital and the other at Children's Healthcare of Atlanta - Scottish Rite Hospital. Santa Claus' jolliest helpers will welcome kids and families to special showings in Atlanta on December 8th and 9th 2022. Magical VR glasses will bring kids up to the North Pole on a sleigh ride that glides right up to the Jolliest Elf talent show stage where they will meet the zany host of The Jolliest Elf, Mr. Jingles, and all of the North Pole's most talented elves!
Eikhoff was inspired to create "The Jolliest Elf - Elves on Tour" after creating the show's opening season and first album last year, and after granting the first-ever VR wish for the Make-A-Wish Foundation.
"The Jolliest Elf is full of love, wonder, silliness and fun – I am so excited to help Santa transport these wonderful kids up to The North Pole to experience some of the magic," remarked Eikhoff. "My goal with The Jolliest Elf, the show, the VR experience, and the music, is to bring some joy and beauty to those who experience it – Santa and I are eager to do just that, with the help of Seacrest Studios, this Christmas!"
At home, families everywhere can enjoy the songs and the fun of The Jolliest Elf by streaming the music anywhere or viewing the first season and this year's new special on Amazon Prime or Kidoodle.TV.
About TRICK 3D
TRICK 3D is a 3D animation and innovation studio. TRICK 3D's roots are in commercial and original 3D content production, most notably as the production studio that brought the holiday special-turned-classic "The Elf on the Shelf: An Elf's Story" to families everywhere. The studio's client roster includes Turner Broadcasting System, Cartoon Network, The Coca-Cola Company, CNN, Delta Air Lines, Sprout, The Make-A-Wish Foundation, and many more. For more information, visit TRICK 3D and The Jolliest Elf.
###
Atlanta, Georgia Event Information
Media is invited to partake/cover in the following VR events; according to hospital policies, up to two (2) media persons may attend each session. Please book your session by emailing valerie@viafailla.com.
Virtual Reality/Broadcast at Seacrest Studio Event Dates:

December 8, 2022, Egleston - 11 a.m., 1 p.m., 3 p.m.
December 9, 2022, Scottish Rite - 11 a.m., 1 p.m., 3 p.m.