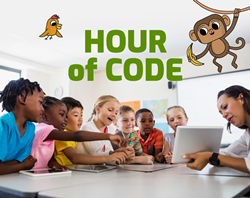 We aim to create an engaging platform where programming knowledge is acquired alongside 21st-century skills through collaboratively playing and solving puzzles, inventing, creating and sharing.
PALO ALTO, Calif. (PRWEB) November 08, 2022
CodeMonkey launches a new important 'Digital Literacy' course for this year's worldwide 'Hour of Code' event!
In this year's Hour of Code week, for the very first time, millions of students from 180+ countries will get free access to CodeMonkey's Digital Literacy courses! This will be the 7th consecutive year in which CodeMonkey gives an opportunity to students across the globe, an introduction to the basics of Computer Science.
Every December during Computer Science week, millions of students participate in the Hour of Code. Computer Science Education Week and Code.org began this global movement to introduce children of all ages and backgrounds to the important world of coding. CodeMonkey wants every student to have a chance to learn how to code and offers a variety of free mini-courses. Learning how to code helps nurture a wide range of fundamental skills such as creativity, logic, critical thinking, and problem-solving skills.
With 11 free one-hour courses to choose from, CodeMonkey is proud to now offer Digital Literacy as one of its Hour of Code activities. Digital Literacy is an important course for any 21st-century student!
Digital Literacy courses (Digital Use and Digital Citizenship) will introduce students to the different aspects of computers and how to use them. It will also teach students how to behave safely in the digital world. In each lesson, the students will learn a new subject by following a guided course, playing various games that use the knowledge they just learned and answering review questions to demonstrate their knowledge on the topic.
This important new course, along with all CodeMonkey's award-winning coding courses, is being offered for free during the upcoming Hour of Code event! CodeMonkey's leading educational game-based environment makes learning fun.
"We aim to create an engaging platform where programming knowledge is acquired alongside 21st-century skills through collaboratively playing and solving puzzles, inventing, creating and sharing."
-JONATHAN SCHOR, CEO & Co-Founder
For more details, and to participate in CodeMonkey's 'Hour of Code', visit: http://www.codemonkey.com/hour-of-code