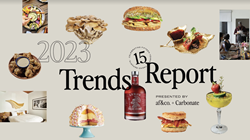 Much has changed in hospitality over the last 15 years and it's clear going forward that much more will be asked of the industry by guests. Restaurants and hotels must do more than provide food to eat or a place to sleep—providing entertainment and discovery are essential.
SAN FRANCISCO (PRWEB) November 10, 2022
af&co., one of the country's top boutique lifestyle/hospitality marketing and public relations firms, and Carbonate, a boutique creative services and brand communications agency, are thrilled to share their 2023 Hospitality Trends Report: 15th Anniversary Edition. The af&co./Carbonate trends report has become an anticipated industry resource for hospitality professionals, providing actionable insights to help brands increase relevance and attract business—both through their front door and through digital channels. Compiled from extensive year-long research, the report presents a comprehensive overview of the trends and practices that will shape the hospitality industry in 2023 by identifying key influences in food, beverage, hotels & travel, design marketing, and social media.
"This year's report celebrates the hospitality industry's remarkable resilience and ingenuity," says Andrew Freeman, Founder of af&co. "Much has changed in hospitality over the last 15 years and it's clear going forward that much more will be asked of the industry by guests. Restaurants and hotels must do more than provide food to eat or a place to sleep—providing entertainment and discovery are essential."
This year, af&co. and Carbonate will once again use the release of the trends report to raise funds for the James Beard Foundation's Women's Entrepreneurial Leadership Program. af&co. and Carbonate have committed to matching all donations through June 30, 2023. Donations can be made directly through this custom link.
"Hospitality businesses are encountering a whole new set of challenges and opportunities as we enter this new year," says Candace MacDonald, Co-Founder of Carbonate. "Persistent labor shortages, inflation, and supply chain issues continue to test the industry; however, we're also seeing a resurgence of creativity as chefs, bartenders, and operators look for innovative ways to attract even more demanding guests in an increasingly competitive landscape."
Here is a preview of several top trends you can expect to see in the report:
Food City of the Year: Austin, TX
Austin has been one of the fastest growing metro regions in the country, according to the last census, growing over 25% from 2010–2020. It's a city that consistently scores highly for livability, landing in the top 10 nationally from a recent study by LawnStarter, and is attracting a wave of new and established businesses, bringing more people with them.Austin also has a vibrant and diverse food culture, home to everything from [arguably] the best smoked brisket in the country, to a number of James Beard award winning chefs including the innovators behind Uchi and Nixta Taqueria. Now, it's also begun attracting proven talent from across the country, like Mashama Bailey's The Grey Market and acclaimed New York cocktail bar, Dead Rabbit. Ex:

Hottest Dish of the Year: Maitake Mushrooms
Creative chefs looking for meaty alternatives to actual meat have long favored mushrooms—and maitakes are the new "it" varietal, taking the place of yesteryear's grilled portobellos. Often served roasted or fried, the craggly surface makes for an explosion of texture, while also capturing any bit of flavorful sauce or dressing. It may not taste like a burger, but it is incredibly satisfying, and is even showing up alongside meat and seafood. Ex:

Cuisine of the Year: Filipino
According to 2021 data from the Pew Research Center, the Asian population in the USA doubled between 2000 and 2019. Filipino Americans make up the third largest group at 19%, or approximately 4.6 million people. Over the last decade, Filipino food has gained increased recognition in the U.S. Popular pop-ups have become multi-store brick & mortars; Filipino chefs have won national and international awards, or become YouTube stars; popular Filipino mash-ups have attracted large audiences; and last year Jollibee Foods Corporation, the Filipino fast-food multi-restaurant group, announced plans to launch 300 stores across the U.S. Now, Filipino restaurants are becoming dining destinations with national acclaim—and booking out months in advance. Ex:

Dessert of the Year: Baked Alaska
A dessert that experiences a resurgence every few decades—in large part thanks to its tableside theatrics and show stopping presentation—the classic Baked Alaska is back in full force. Modern iterations may be super-sized to share, flamed tableside, or deconstructed—no matter the presentation, it's hard to go wrong with ice cream, sorbet or semifreddo topped with torched meringue. And the show makes it all the more worthwhile! Ex:

Drink of the Year: The New Seafood Cocktail
In the 80s and 90s popular cocktails tended toward sweet; in the early aughts bitter was big; now in 2022, briny is back in style. We're not just talking about dirty martinis, but the newly branded "coastal" cocktails that embrace oceanic flavors and ingredients, often with an eye-catching edible garnish. Ex:

Nigerian Food Pops Up
Nigerian and West African food (of which Nigeria plays a significant part) is attracting a wider audience—gaining prominence and prestige where it was once overlooked and under-represented. Based on the foodways of hundreds of different ethnic groups, Nigerian cuisine is incredibly rich and varied, featuring rice and legumes, soups, and stews layered with aromatic spices and chilis. Jollof Rice prepared with tomato, onion, spices, and fiery-hot scotch bonnet chilis is perhaps the best known dish. Others include Pepper Soup and Suya, seasoned, grilled meats on a skewer. Some Nigerian chefs are using fine-dining, dinner-party style meals as an educational opportunity to teach others about their culture. It's a chance to taste, to talk, and to discover something new in a vibrant multi-sensory cultural exchange. Ex:

Cocktails for a Crowd
There has been an exuberant return to the conviviality of shared large-format cocktails, as people throng together looking for some fun and personal connection. But don't expect the pitchers or scorpion bowls of the past, as hip and happening cocktail bars are introducing new, aesthetically pleasing and interactive ways for people to share a spirited drink. Ex:

Salted Egg Yolk: The Next Pumpkin Spice
Thanks in part to the rise of bubble tea and Vietnamese coffee, another Asian favorite has started to cross over to mainstream America—salted egg yolk drinks. The rich custardy flavor is backed by umami notes, creating something that is sweet, savory, and a bit elusive, drawing you back for more. With people eager to discover how to make this at home, the hashtag #saltedeggyolk has 11.5M views on TikTok. When Torani calls Salted Egg Yolk the "Flavor of the Year" you can be sure it's coming to your local coffee shop soon. Better latte than never. Ex:

Social Commerce Bids Buy-Buy to Extended Purchase Journeys
As Gen Z continues to grow in buying power, social commerce is expected to double to a $1.2 trillion industry from 2021–2025, according to Accenture. In social commerce all, or most, of the shopping experience takes place directly within a social media platform— from discovery, to research, to purchase. By taking advantage of social media algorithms and targeting, social media savvy stores are able to reach new audiences via reels, instant experiences, livestreams and more engaging content. As e-commerce continues to grow, social commerce is expected to grow rapidly in turn, led by shopping integrations on Facebook, Instagram, TikTok, Pinterest, and more. Ex:

Shopping the Room
Hotels desiring to become lifestyle brands is nothing new, nor is the crossover of guest room decor into retail sales. Westin has been marketing and selling their Heavenly® beds for ages. What has changed is the technology. In a society becoming accustomed to click and purchase ordering, everything is becoming a shopping experience—even the hotel stay. Happy guests often long to bring a part of the hotel experience home with them, and new software platforms are enabling guests to point and purchase guest-room amenities. Hotels earn incremental revenue with a commission on every sale, and it can help build long-lasting relationships with guests who have purchased products. Ex:

###
ABOUT CARBONATE: Carbonate is a brand communications and creative services agency specializing in food, beverage, hospitality and food tech. Services include: brand strategy, market positioning, concept development, naming, visual and verbal identity development, websites, content development and strategic public relations. Prior to launching as an independent company, Carbonate was a division of San Francisco-based af&co., a hospitality consulting firm that specializes in restaurants and hotels. Using industry insights, strategic thinking, and creative vision, Carbonate helps clients rise to the top of a competitive marketplace. Follow along @carbonategroup.
ABOUT af&co.: af&co. is an innovative restaurant and hospitality consulting firm headquartered in San Francisco with clients across the country. The company has developed and launched concepts for more than 100 restaurants and hotels and provided ongoing marketing, public relations, and operations consulting for more than 200 others. af&co. has created unique culinary events of all sizes from intimate dinners to food and wine festivals drawing more than 10,000 people. The team does whatever it takes to help their clients achieve their goals and focus on what they are passionate about: hotels, restaurants, food, wine, spirits and travel. Follow along @afandco.