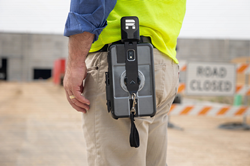 Andrew Hamra, the creator of the RUNNUR line of products added, "I'm very happy to work with an exceptional company like ProClip USA. ProClip mounts are the best in the industry, and I know I can count on them to maintain an incredible level of quality and service."
MADISON, Wis. (PRWEB) November 08, 2022
ProClip USA, LLC has announced that it has acquired a new line of wearable solutions from RUNNUR, including the Tablet Belt Clip and Tablet SlingMount®. ProClip USA is an industry leader for vehicle and device-specific mounting systems.
Bjorn Spilling, CEO of ProClip USA stated, "We are incredibly excited to begin offering our customers this exciting line of new products. We always want to help our customers improve productivity on the job and protect their technology and devices. Being able to offer these wearable solutions for workers in the field is a great addition to our lineup of mounts and cradles for the workplace."
Andrew Hamra, the creator of the RUNNUR line of products added, "I'm very happy to work with an exceptional company like ProClip USA. ProClip mounts are the best in the industry, and I know I can count on them to maintain an incredible level of quality and service."
The Tablet Belt Clip by RUNNUR® frees up workers' hands allowing them to be more productive on the job. Instead of constantly packing and unpacking tablets, setting them down, and forgetting them or even dropping them, workers can conveniently clip them to their side. Much like a carpenter holsters a hammer on the job, the Tablet Belt Clip acts as a tablet holster, conveniently there at your side when you need it and clipped to your hip when you don't. ProClip will offer universal options for any tablet, as well as manufacturer-specific options for Samsung or Apple with the OtterBox uniVERSE line of cases.
The Tablet SlingMount® by RUNNUR® allows a worker to conveniently carry their device over their shoulder and out of the way. This shoulder strap allows instant access to the device in less than one second. It eliminates fumbling around for devices while on the job and is compatible with any tablet.
ProClip USA will be showcasing the RUNNUR® lineup of products at Groundbreak 2022 in New Orleans in partnership with OtterBox from Nov. 7-9, 2022.
ProClip USA, LLC is the exclusive North American distributor of ProClip vehicle-specific mounts for car dashboards and headrests, and device-specific cradles and docks for mobile devices. ProClip is a leading supplier of business mounting solutions for mobile phones, tablets, mobile computers, scanners, and printers. ProClip has deployed hundreds of thousands of mounting solutions for leading manufacturers like Zebra, Samsung, Panasonic, Honeywell, Apple, and more. We service many different industries from waste disposal, fleet and delivery services to warehousing, military, police, and healthcare. For more information, visit http://www.proclipusa.com/business. Follow us on LinkedIn, Facebook and Instagram.