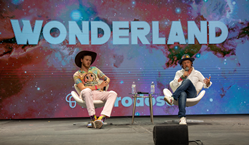 The industry is barely in its infancy. However, the potential reward to humanity, mental health, and those who get in on the ground floor, is immeasurable, said Pierce.
MIAMI (PRWEB) November 09, 2022
This week at the Wonderland Psychedelic Convention in Miami, Chairman of the Bitcoin Foundation, Economist, and Philanthropist Brock Pierce announced that he is partnering with Jeremy Gardner, the Managing Partner and Founder of Mystic Ventures, as a General Partner in this cutting-edge venture fund. Pierce is the co-founder of EOS Alliance, Block.one, Blockchain Capital, Tether, and Mastercoin, the sector's first ICO. Gardner is the Founder of Blockchain Education Network, Co-founder of Augur, the world's first Utility Token and first ICO on Ethereum.
Pierce has been a long supporter of MAPS, the Multidisciplinary Association for Psychedelic Studies. He is also a pre-IPO investor in ATAI Life Sciences, a Germany-based clinical-stage biopharmaceutical company. As an investor in Filament Health, a Canadian-based clinical-stage natural psychedelic development company, Pierce is a veteran in this important new sector.
Mystic is an AngelList Ventures Fund focused on the medicinal applications of psychedelics. Mystic Ventures functions like a biotech venture fund, oriented towards scientific breakthroughs and new applications of promising therapeutics and plant medicines. Mystic is dedicated to driving these advanced research and development teams, often from pharmaceutical companies and top research universities, to develop cost-effective solutions that are less exploitive, addictive, and focused on holistic healing rather than ongoing treatment. Mystic and their portfolio are working to make psychedelic medicines and therapies mainstream.
Mystic Ventures is a rolling fund on AngelList Ventures. It's a standard 2:20 (management/carry) with a $25,000 minimum quarterly ticket size for a commitment of 8 quarters. The fund's Investments range from AI-powered drug discovery to the development of new treatments, as well as far-ranging startups such as a breathwork app and biofeedback powered haptic sound startup.
About Brock Pierce
Brock Pierce is a blockchain pioneer, technology investor and philanthropist with an extensive track record of founding, advising, and investing in disruptive businesses. He's been credited with pioneering the market for digital currency and has raised more than $5B for companies he has founded. Pierce is the Chairman of the Bitcoin Foundation and co-founder of EOS Alliance, Block.one, Blockchain Capital, Tether, Mastercoin (first ICO), and Lighthouse NFT, the first ground-up physical NFT smart gallery. In 2020, Pierce ran for President of the United States as an Independent, receiving the first-ever US presidential vote cast on the blockchain. Pierce is currently chairman of Percival, his business office which invests in public and private opportunities with a focus on early-stage investments in deep tech.
Block.one was co-founded by Pierce in 2017. Block.one has sold over $4B tokens in the EOS crowd sale making it the largest ever. Blockchain Capital was founded in 2013 and is the first sector-focused venture fund that invests solely in Blockchain technology companies. Pierce led the firm through the first ICO of a venture fund, which created the first security token, BCAP. Blockchain Capital has made more than 100 investments in the sector across its four funds. The firm was named the most active FinTech Venture Fund by Pitchbook. Tether, the first stable coin and asset-backed token, is the most traded cryptocurrency by volume.
Pierce is also a co-founder of D10e, GoCoin, the first cryptocurrency platform to fund a political campaign, Blade Payments, Five Delta (sold NASDAQ: SRAX), Xfire 2.0, Playsino, Evertune, and GamesTV. He serves as an advisor to a number of companies, including Airswap, Bancor, BitGo, BitGuild, Bloq, Element Group, Metronome, Shyft, tZERO, ODX and BlockV, the first NFT platform in the world. He is a General Partner in Space Fund and sits on the Board of Directors for Bit Digital, one of the largest cryptocurrency mining companies in the US.
He is an active supporter of the American Civil Liberties Union (ACLU), the Foundation for Individual Rights in Education, the Center for Individual Rights, and the Brennan Center for Human Rights. Pierce is Chairman of the Integro Foundation, a Puerto Rico-based non-profit focused on helping Puerto Ricans and supporting environmental and humanitarian efforts throughout the Caribbean region. Pierce is also Vice Chair of the U.S. Marines Toys for Tots Foundation of New York, Long Island and Puerto Rico. Pierce is a frequent lecturer at Singularity University and has spoken at the Milken Global Conference, Mobile World Congress, Wired, INK, Stanford University, USC, and UCLA.