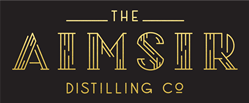 "We've bottled a little holiday magic in both of these spirits. By relying on classic holiday flavors and adding our own unique twist, we hope to inspire people to craft their own exceptional cocktails for exceptional moments this holiday season."
PORTLAND, Oregon (PRWEB) November 09, 2022
The Aimsir Distilling Co., (pronounced aim-sure), a Portland-based maker of award-winning whiskey and gin, today announced the release of two holiday spirits: A Festive Holiday Gin and Stout Barrel Bourbon, available on November 19.
The second of Aimsir's seasonal gins (and third gin overall), A Festive Holiday Gin, evokes the warmth of a holiday market and features Italian juniper, allspice, cinnamon, clove, along with other spices and botanicals featured around the holidays. Aged in French Oak Pinot Noir barrels, A Festive Holiday Gin has strong spice notes on the nose, followed by a hint of stone fruit sweetness, and a light vanilla finish.
"We've bottled a little holiday magic in both of these spirits," said Aimsir distiller Andy Robinson. "By relying on classic holiday flavors and adding our own unique twist, we hope to inspire people to craft their own exceptional cocktails for exceptional moments this holiday season."
Stout Barrel Bourbon begins with Aimsir's award-winning Straight Bourbon Whiskey–aged four years in new American Oak barrels–before aging an additional 10 months in freshly emptied stout casks from Culmination Brewing. The resulting spirit is a roasty, chocolatey, malty and rich bourbon best sipped neat with good company on a dark and rainy winter evening.
To celebrate the launch of these new holiday spirits, Aimsir is featuring a special holiday-themed cocktail menu, inspired by the warmth and delight of European Christmas markets. Featuring drinks like the Cardamom Pod (Holiday Gin, cardamom syrup, lemon, and egg white), the Doom & Gloom (Holiday Gin, Nocino, Amaro Nonino), the Winter Warmer (Stout Bourbon, apple brandy, vermouth, black walnut bitters), and more, these festive cocktails will be available at the Emerald Room in NE Portland throughout the holiday season.
Founded in 2020, Aimsir has won many awards for its world-class spirits and packaging, most recently winning three awards by the American Distilling Institute in its 2022 International Spirits Competition (Best of Category – Bottled & Blended Spirit – Flavored Whiskey, Silver Medal: Cold Brew Bourbon, Silver Medal – Bottled & Blended Spirit: Straight Bourbon Whiskey, Bronze Medal Excellence in Packaging: Cold Brew Bourbon).
Find more photos here. For more information, photos, or samples, contact Rachel Morrison.
About The Aimsir Distilling Co.
The Aimsir Distilling Co. was created to bring people together. In 2020, Christine and Stephen Hopkins founded The Aimsir Distilling Co. and opened The Emerald Room, a family-friendly full bar and restaurant for all. Part of Portland's famous Distillery Row, Aimsir's award-winning spirits are batch-distilled. Its list of award-winning spirits include Bourbon Whiskey, Cold Brew Bourbon, Aitil House Gin, Rosé Gin, and Vættir Aquavit. Aimsir spirits can be found in liquor stores in Oregon and at the Emerald Room at Aimsir Distilling in Northeast Portland.
Aimsir's spirits have won the following awards:

Aitil House Gin: 2021 Double Gold, Best of Class, and Best of Category by American Distilling Institute (ADI), 91 point score and an inclusion in the 100 Best Spirits (2021) by Wine Enthusiast.
Cold Brew Bourbon: 2022 Best Flavored Whiskey (ADI), Bronze Medal Excellence in Packaging (ADI),
Straight Bourbon Whiskey: 2022 Silver Medal, bottled and blended spirit category (ADI), 2022 Double Gold (San Francisco Spirits Competition)
The Emerald Room at Aimsir Distilling is all-ages and welcomes families and dogs Wednesday - Saturday, 4-10 p.m. at 2117 NE Oregon St. Suite 202 Portland, Oregon, 97232. For more information on Aimsir and its events at the Emerald Room, visit aimsirdistilling.com, or find Aimsir on Facebook or Instagram.