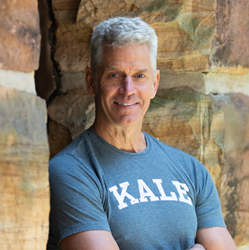 "People think it's hard to change. Do you know what's hard? Heart Disease. Type II Diabetes. High cholesterol is hard. We're raising awareness that you can fuel an active lifestyle by eating the world's strongest nutrition: plants," Rip Esselstyn explains the idea behind launching TEAM PLANTSTRONG.
AUSTIN, Texas (PRWEB) November 09, 2022
Despite the medical community making headway in the fight against cancer, conditions like obesity, high blood pressure, and heart disease, are still on the rise. As a result, doctors are just beginning to preach what Rip Essselstyn, New York Times bestselling author and former top triathlete, has dedicated his life to - helping people understand there is a low-cost way to reach optimal health: eat your fruits and veggies and get outside and move!
"People think it's hard to change the way they fuel their bodies. But do you know what I think is hard? Heart Disease. Type II Diabetes is hard. Hypertension and high cholesterol are hard. We want to raise awareness that you can fuel an active lifestyle, ward off chronic diseases, and feel your absolute best by eating the world's strongest nutrition: plants," Rip explains on his acclaimed show, The PLANTSTRONG Podcast.
In 2009, Rip established PLANTSTRONG, a community dedicated to helping the average American discover the benefits of a whole food plant-based diet. And while millions have already been helped, PLANTSTRONG is taking it up another notch by launching TEAM PLANTSTRONG, a community dedicated to fitness in addition to celebrating the benefits of plant-based eating.
With high-profile runners like 7x Ironman Carrie Barrett already signed up as the captain, the TEAM is taking its message of "PLANTSTRONG Performance" to the streets of Austin by bright green TEAM shirts. An official partnership with the Austin Marathon will also place a focus on the new TEAM's mission and message.
"We couldn't be more excited to have PLANTSTRONG join our TEAM program and showcase their products at our health & fitness expo this year. We wholeheartedly support a healthier lifestyle of plant-based whole foods and look forward to celebrating with all of them at the finish line in 2023," explained Jack Murray, founder of the Austin Marathon.
It's not just for runners. Anybody can join TEAM PLANTSTRONG, whether you are running, walking, or just cheering others along. The all-inclusive, everybody-welcome attitude that PLANTSTRONG has always embodied will extend to this TEAM as well.
The TEAM offers a complete training support program led by PLANTSTRONG Coach Carrie Barrett, an accomplished triathlete and ultra distance runner. "It doesn't matter whether you are training for a 5k, half, or full marathon, TEAM PLANTSTRONG is your best bet to discovering the power of plants and showcasing your lifestyle to others. I can't wait to meet everyone in Austin," Coach Barrett shared.
FOR MORE INFORMATION:
ABOUT PLANTSTRONG: At PLANTSTRONG, we advocate for the scientifically proven benefits of plant-based living. We envision a world that universally understands, promotes and prescribes plants as the solution to empowering health, enhancing performance, and restoring the environment.
TEAM PLANTSTRONG Website: https://plantstrongfoods.com/pages/team-plantstrong
Dropbox link for photos: https://www.dropbox.com/scl/fo/kpokggsa6pgx5c7rf6q3s/h?dl=0&rlkey=49d3tm17rzw0pwcz0n7hn5oj4
Interview or review unit requests please contact Laurie Kortowich.