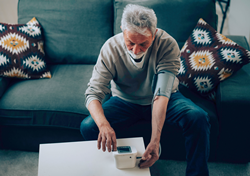 "The reduction we saw in systolic and diastolic readings after 3 months is impressive," stated Lyle Dennis, Chief Medical Officer and Co-Founder.
ST. PETERSBURG, Fla. (PRWEB) November 10, 2022
Hypertension, or high blood pressure, puts patients at risk for heart disease and stroke. Only 1 in 4 adults (24%) with hypertension have their condition under control and subsequently both are leading causes of death in the United States. Remote Patient Monitoring (RPM) has tapped into a resource that allows patients to better manage their high blood pressure. In a recent internal study, RPM Healthcare found that 74% of patients enrolled in their program saw a reduction in systolic and/or diastolic readings after 3 months.
RPM Healthcare assists patients with hypertension to better manage their health by collecting physiological data from digital devices and providing daily coaching support and monitoring. Patients receive a health curriculum of educational content and RPM Care Coaches manage alerts then escalate those needing early intervention. For patients categorized as Stage 2+ hypertension with readings of 160 or higher systolic or 90 or higher diastolic, RPM Healthcare saw an average drop of 11.2% or 20 point drop in systolic reading (from 170 to 150) and a 10% average drop in diastolic reading (from 94 to 84) taking place between month 1 and month 3. Furthermore, 50% of patients continue to see their blood pressure drop after 6 months in their program.
"Many factors that lead to heart disease are not under our control, like age or gender, but luckily, we can modify some things. Hypertension is one of those factors. Decrease in blood pressure not only can save lives but will also reduce healthcare costs," stated Irina Koyfman, Population Health Chief at RPM Healthcare. "The amazing work of our Care Coaches leads to not only a drop in blood pressure, but weight loss, medication changes (including deprescribing), and overall better quality of life. We believe in patient-centered care and treating the whole person, not just their disease state. Remote patient monitoring should be rooted in human interaction and compassion, not only devices and readings."
According to the CDC, in 2020, more than 670,000 deaths in the United States had hypertension as a primary or contributing cause. Doctors have routinely guided their patients on how to prevent and lower hypertension by recommending patients maintain a healthy weight, exercise regularly, reduce salt intake and learn to manage tension or stress. However, once these measures are discussed in the office and the patients return home, the guidance may not be followed. Yet, when doctors couple these recommendations with registering their patients in an RPM program, significantly better results are achieved. Contributing factors include quicker provider intervention, better response to therapy and a Care Team supporting a patient's journey to take a more active role in their health care.
"The reduction we saw in systolic and diastolic readings after 3 months is impressive. These results highlight that combining technology with a physician's guidance creates an optimal outcome for patients and enhances the way healthcare is delivered," stated Lyle Dennis, Chief Medical Officer and Co-Founder of RPM Healthcare. "Remote patient monitoring makes healthcare systems more efficient; patients are more receptive and engaged in their healthcare and physicians are provided with valuable data to enhance decision-making."
About RPM Healthcare
RPM Healthcare is a team of healthcare innovators, educators and clinicians with a long history of enhancing condition-based patient care, providing digital tools and education to better connect patients with their healthcare providers.
For more information, please visit: https://rpmhealthcare.com.