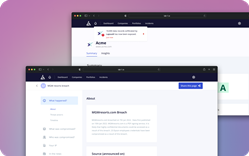 "We know the problem is enormous because we are collecting an average of 626 breached data entities per second. Lab 1 is the first cyber intelligence platform that can quantify the network effect of breaches of any company's global supply chain."
LONDON (PRWEB) November 11, 2022
Cyber intelligence platform Lab 1 (https://lab-1.io) today announced a £1m funding round supported by MMC Ventures Co-Founder & Chairman and investor Alan Morgan, alongside MMC Ventures, prominent investor Cris Conde and SyndicateRoom's Access EIS Fund.
After three years of development and data research, Lab 1 is launching the world's first contextual knowledge graph of data breaches to help companies quantify cybersecurity risk and exposure across their entire global supply chain. The funding will be used to accelerate product engineering and growth.
Lab 1 discovers, quantifies and contextualises for its clients criminal activity on forums, messaging platforms, file sharing sites, code repositories, the dark web and many other sources. The company's CiGraph has already amassed over 24bn data entities in a global database of compromised and exposed data.
CiGraph transforms breach data into feeds and reports on any company, including insight timelines, types and sources of stolen data. It uses algorithms to calculate the impact and risk that a breach poses to each company.
"Lab 1 is the first cyber intelligence platform of its kind to contextualise the network effect of breaches", said Lab1 CEO and co-founder Robin Brattel. "Breaches affect trust, costs, even stock performance. We know the problem is enormous because we are collecting an average of 626 breached data entities per second. Lab 1 can help companies build cyber resilient supply chains, and are delighted that leading investors are backing us."
MMC Co-Founder & Chairman and investor Alan Morgan explained the investment opportunity: "Misuse of data and criminal activity affect every part of the supply chain and create risks to corporate performance and reputation. The potential for Lab 1 is compelling: Lab1 tools strengthen cybersecurity across the entire supply chain and make companies more robust."
Cris Conde added, "If I were still in my former Fortune 500 CEO role, I would have been an early adopter of Lab 1 so that I could get such updates on my phone for all of my top vendors. Systemically-important companies have outsourced processes and use software from thousands of providers. The client is left in the dark as to potential cyber exposures at the vendor, or if there have been changes in the threat surface of the vendor. That's why Lab 1 fills such an important void."
To make it easy for security teams to turn breach information into action, Lab 1 offers Blast, a real-time alerting service; Radius, a detailed breach incident report, and Fallout, an analysis of the compromised data, including impact assessment combining multiple different data sets to unearth hidden threats and risks. Company Reports present a connected view of all information.
Lab 1 already counts a Five Eyes defence force as client and a data partnership with US-based supplier intelligence company Craft. To set up Lab 1, enterprise customers only need the company names they wish to monitor, and Lab 1 will start delivering insights in near real-time via email, UI and API.
To find out what information CiGraph already has on your supply chain and to join the onboarding waitlist, go to https://www.lab-1.io/.
CONTACT
Robin Brattel, hello@lab-1.io
—
SUPPORTING RESEARCH

— ABOUT LAB 1 Lab 1 (https://lab-1.io) discovers, quantifies and contextualises stolen data on the web and Dark Web, helping companies visualise exposure and risk in near real time, on any company, across their entire global supply chain. Lab 1 collects compromised and exposed data information on over 20 data classes such as credentials, PII, code and documents, and feeds them into CiGraph. CiGraph is the world's first contextual knowledge graph of global supply chain breaches, containing 24bn data entries, adding hundreds every second. Founded by serial entrepreneur and industry expert Robin Brattel alongside co-founders Luke Wilson-Mawer, Nick La Rooy and Davide Palmisano, Lab 1 is backed by angel investors Alan Morgan and Cris Conde, venture capital fund MMC Ventures, EIC fund SyndicateRoom, and investors from Thales, Goldman Sachs, Revolut and others.
ABOUT MMC VENTURES MMC funds and helps scale technology companies that are transforming today's markets. It has been backing transformative tech
companies from the Seed and Series A stage since 2000. MMC commits to a deep understanding of each company's underlying technology and business model to help make better decisions and be more effective partners. Transformative technology companies MMC has backed to date include Ably, Copper, Gousto, Snowplow, Interactive Investor, Brightpearl, Current Health, Synthesia, Signal AI, Bloom & Wild and Peak. Explore MMC's research and other actionable insights at http://www.mmc.vc.
ABOUT SYNDICATEROOM
SyndicateRoom (https://www.syndicateroom.com/) runs Access, the UK's most diversified EIS Fund, which uses a data-driven approach to identify top-performing angel investors and co-invests with them into some of the UK's most promising opportunities. Since its creation in 2013, Syndicate Room has co-invested over £260m in 220+ startups alongside a network of 1,000+ investors and over 50 super angels.