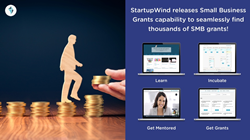 "StartupWind is democratizing the entrepreneurship process by providing knowledge, mentoring, and access to funding sources that have traditionally been out of reach for main-street small business". --- Professor Mohan Sawhney, Associate Dean of Digital Innovation at Northwestern Kellogg
CUPERTINO, Calif. (PRWEB) November 10, 2022
StartupWind, Inc, released Small Business Grants capability as part of its SMB Innovation & Mentoring Platform to help small business owners seamlessly find, filter, and access thousands of federal and state grants that often are a critical source of non-dilutive growth capital for them. The SMB owners can find the most relevant grants for their business, and also find the resources such as courses, mentors, and tools that would help them acquire the right business skills necessary for creating a compelling proposal.
For main-street small businesses, funding sources such as angel investors or venture capital are typically not an option and for tech startups, it involves the dilution of their equity. On the other hand, debt financing increases their liability, and many small businesses can't secure sufficient debt due to their lack of financial strength.
As a result, the SMB owners are better off securing "non-dilutive funding" in the form of grants offered by federal & state agencies and other entities. In this case, the SMB owners have to neither give equity nor undertake liability.
However, finding the right grants and getting ready with a compelling proposal is very cumbersome and daunting. It often takes forever for the SMB owner to find the right grant and get a compelling proposal ready to submit.
StartupWind solves this problem by enhancing the AI-Powered SMB Innovation & Mentoring platform with the newly released Small Business Grants capability that offers:

A single place for thousands of grants instead of spending hours on search engines to find the grants that apply to your small business, your industry, the stage of your business, your minority or woman-owned status, and your state.
Integration with grant databases to list active and future grants from federal agencies and some of the larger states in the country to keep the list of active grants up to date while maintaining the list of all the upcoming grants.
Ability to search and filter grants based on the specific focus area that is most relevant to your business. For example, if you are a women-owned business, you could find grants that are offered to your type of business. If you are a minority-owned business, you could find grants that are intended to help minorities. If your business is in a struggling industry such as manufacturing, then you could find grants that are intended to help you.
Courses, tools, and frameworks that help you gain the necessary knowledge to build a solid business plan or grant proposal to increase your chances of success and reduce the time you spend getting your proposal ready.
Self-service accelerator programs for specific grants such as SBIR/STTR typically offer millions of dollars of non-dilutive funding to deep science and technology startups.
Connection to 1,200+ mentors on the platform to get input on your proposal and set you up for success.
Professor Mohan Sawhney, Associate Dean of Digital Innovation at Northwestern Kellogg said:
"StartupWind is democratizing the entrepreneurship process by providing knowledge, mentoring, and access to funding sources that have traditionally been out of reach for main-street small business".
Naren Patil, the Founder & CEO of StartupWind said:
"Most startups and small businesses are unaware of non-dilutive funding sources such as grants. SMB owners end up spending an enormous time on search engines and often don't find anything relevant to their focus, their industry, their state, and their current stage. Even when they find a grant, the SMB owners typically lack the business skills to create a compelling proposal. We are excited about enhancing the StartupWind platform with the SMB Grants capability to help SMB owners find the right grants with few clicks and also find resources to build a compelling proposal."
About StartupWind, Inc: Headquartered in Cupertino, California, StartupWind is the AI-powered Innovation & Mentoring platform designed for 30 million small businesses in the US. StartupWind unveils a new way to connect, incubate, mentor, and scale startups and SMBs (Small Businesses). StartupWind works with University, State, and SBDC programs to help them build a powerful digital innovation engine for their regions. It enables them to assist a large number of startups and small businesses to run their businesses profitably and avoid costly business closures.
StartupWind has been impacting about 30,000 innovators & mentors and 10,000 startups & small businesses affiliated with over 100 universities in the world. Using the StartupWind platform, these small businesses and startups have created over 5,000 ideas, 4,000 Business Model Canvases, and thousands of business plans using StartupWind's tools, frameworks & courses and have access to thousands of mentors on the platform.
Please visit http://www.startupwind.com for more information.