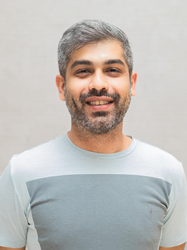 "Affinity Global Inc. embodies the vision, drive and innovation that define a successful entrepreneurial venture." - Alex Vieux, publisher and CEO of Red Herring
CHICAGO (PRWEB) November 10, 2022
Affinity Global Inc., a leading international advertising technology holding company, today announced it has been named to the 2022 list of Red Herring Top 100 Global winners. 
Recognition for Affinity Global Inc. was due to its strong portfolio of fast-growing ad tech products which have a year-over-year revenue growth of more than 100 percent. 
Affinity provides full funnel advertising platforms for both brand and performance focused advertisers across its business units, which include mCanvas, VEVE, SitePlug and Yield Solutions. Each of these platforms also have publisher-facing monetization products. Affinity also provides SaaS products for publishers who monetize using display, commerce and app-installs through its products AdOpsOne, SitePlug Nucleus and VEVE Market. Collectively, Affinity will generate more than $1.3 billion in gross merchandise value for its 2,000+ advertiser clients in 2022.
"Being named to the Top 100 Global is validation of our ongoing effort to assemble a powerful set of performance and brand advertising alternatives for advertisers and SaaS products for publishers," said Lavin Punjabi, founder and CEO of Affinity Global Inc. "The recognition is a huge honor, especially coming from such a widely respected brand as Red Herring." 
Red Herring's editorial staff evaluated the companies on both quantitative and qualitative criteria, such as financial performance, technology innovation, management quality, strategy and market penetration. 
"Choosing the companies with the strongest potential was by no means a small feat this year," said Alex Vieux, publisher and CEO of Red Herring. "After rigorous contemplation and discussion, we narrowed our list down from hundreds of candidates from across the globe to the Top 100 Winners. We believe Affinity Global Inc. embodies the vision, drive and innovation that define a successful entrepreneurial venture."
Red Herring editors were among the first to recognize that companies such as Facebook, Twitter, Google, Yahoo, Skype, Salesforce.com, YouTube, and eBay would change the way we live and work. Thousands of the most interesting and innovative companies have graced the Top 100 list over the years.
About Affinity Global Inc. 
Affinity Global Inc. is an advertising technology holding company that delivers innovative cross-funnel consumer engagement products for both advertisers and publishers. For brands and their agencies, Affinity provides non-standard ad formats and media platforms to deliver both awareness and performance objectives. For publishers, these same media platforms provide unique monetization opportunities from automated SaaS-based products in the display, commerce content and mobile app-install space. One of the fastest growing adtech companies in the world, Affinity's business units include AdOpsOne, mCanvas, SitePlug, VEVE and YieldSolutions. Affinity is a global company with 300+ employees across the US, UK, Germany, India, Indonesia, China and Brazil. For more information visit https://affinity.com.
# # #