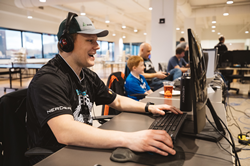 Together, Nerdery and Gillette share the vision of a world in which every child is able to create their own story.
MINNEAPOLIS (PRWEB) November 10, 2022
Nerdery, a premier digital product consultancy, hosted Team Extra Life Nerds this past weekend for its Extra Life marathon gaming event, where they raised $34,000 for Gillette Children's.
Extra Life, a program of Children's Miracle Network Hospitals, unites gamers from across the globe to change kids' health and change the future. This is the 11th year Nerdery hosted Team Extra Life Nerds, the organizers of the event, who have raised more than $400,000 throughout their participation in the global event.
"As Gillette Children's celebrates 125 years of providing pediatric specialty care to children living with bone, brain and movement challenges, we recognize the many partners like Nerdery who provide the funding necessary to keep our mission vibrant," said Stephen Bariteau, executive vice president of philanthropy at Gillette. "Together, Nerdery and Gillette share the vision of a world in which every child is able to create their own story."
"I am so thankful to work with such a dedicated team that cares about causes like Gillette," said Troy Cleland, cloud engineer at Nerdery and event organizer. "It is awesome to be able to give back to deserving children through a way that we all enjoy by gaming, and I appreciate Nerdery supporting and hosting our endeavor for so many years now."
Nerdery was honored to host two Gillette patients, ZaLayaa Wandrick and Lauryn Matzke, at the event. Lauryn has visited Nerdery for this event for eight years, flying up from Phoenix each year to game with the team.
Team Extra Life Nerds is still hoping to reach their fundraising goal of $60,000 by the Dec. 31 deadline, as funds raised can make the difference for children receiving treatment or not. The public is welcome to continue to donate, please visit the team page at https://www.extra-life.org/index.cfm?fuseaction=donordrive.team&teamID=60559.
To learn more about Nerdery and Nerd culture, please visit https://www.nerdery.com/.
ABOUT NERDERY
Nerdery is a premier digital product consultancy with depth of experience in strategy, design, technology and engineering, serving clients across a range of industries. Nerdery works alongside its clients to understand their goals and build digital products that transform business, create enduring customer connections and elevate the human experience. Much more than consultants, they are allies for the digital journey — a collection of strategists, designers, technologists and proud "Nerds," who are united around a vision of relentlessly inventing a world that works better for all. Nerdery was founded in 2003 and has offices in Minneapolis, Chicago and Phoenix. Find out more at nerdery.com.
ABOUT GILLETTE CHILDREN'S
Gillette Children's is a global beacon of care for patients with brain, bone and movement conditions that start in childhood. Our research, treatment and supportive technologies enable every child to lead a full life defined by their dreams, not their diagnoses. Founded in 1897, Gillette collaborates with patients, families and our partners in clinical leadership, research and advocacy to set the standard of care and opportunity for children with complex medical challenges. To learn more about Gillette, visit gillettechildrens.org.
###