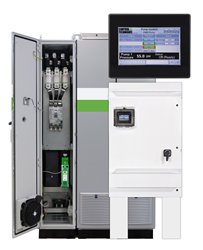 Control Techniques offers Packaged Pump Solutions that utilize the Pump Drive F600 to deliver precise, dependable, flow control. Solutions include Drive Free Standing (DFS) and Wall Mount Panel (WMP) configurations.
CORAL SPRINGS, Fla. (PRWEB) November 15, 2022
When working with industrial pumping, such as crop irrigation or wastewater management, simple and reliable flow control is paramount in ensuring efficient operations. Control Techniques, part of Nidec Motor Corporation, has introduced new wall mounted models of its packaged pump solutions for use in pumping applications.
These easy to install, pre-configured solutions save engineering costs, resources, and time with the ability to control single and multiple pump applications without a costly PLC (programmable logic controller).
Control Techniques' pre-configured pump packages contain its industry-designed pump drive F600 developed with easy-to-use, pump application specific software functions, real-time clock, Hand/Off/Auto LCD keypad, input disconnect switch, and space for several power options inside a robust UL Type 3R enclosure. In addition, Control Techniques' Wall Mount Panels (WMP) and Control Techniques' Free Standing (DFS) are also ready for fast deployment and can scale to nearly any pump size and functional requirement.
These pumping packages are specifically created to offer high performance for the harsh environments often found in pumping applications. Control Techniques' WMP and DFS pump packages feature a surge arrestor, which provides transient voltage surge suppression as well as a circuit breaker disconnect with high SCCR ratings. All of Control Techniques' packaged pumping solutions are designed with field serviceability in mind, giving the added benefit of shorter maintenance downtimes.
More information on the DFS and WMP pre-engineered packaged solutions can be found on the Packaged Pumping Solutions webpage. Control Techniques' entire line of pump and drive solutions is featured on http://www.controltechniques.us.
Control Techniques
Control Techniques, a Nidec company, is the global drives specialist with a long entrepreneurial history. More recently, we have the support of a large international parent company, Nidec, and its other brands. We are a challenger with a big name in the drives industry. We pride ourselves on the service we provide from our network of drive centers and partners around the world. We are drive obsessed, and our ambition pushes us to be the go-to company for drives.
About Nidec Corporation and Nidec Motor Corporation.
Nidec Corporation is the world's No.1 comprehensive motor manufacturer. Based in Kyoto, Japan, Nidec Corporation offers motors ranging from micro-size to super large, as well as application products and services in IT, automation, home appliances, automobiles, commercial and industrial systems, environmental, energy, and many other businesses. Nidec is comprised of approximately 300 group companies employing more than 140,000 people all over the world.
With headquarters in St. Louis, Mo., Nidec Motor Corporation (NMC) is the leading manufacturer of commercial, industrial, and appliance motors and controls. The NMC product line features a full line of high efficiency motors, large and small, that serve industrial, residential, and commercial markets in applications ranging from agriculture, water treatment, mining, oil and gas, and power generation to pool and spa motors, air conditioning condensers, rooftop cooling towers, and commercial refrigeration. NMC also makes motors, controls, and switches for automotive and commercial markets.