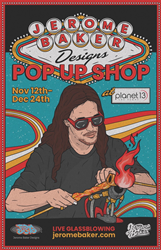 "Connecting Cannabis Culture and Art since 1991"
LAS VEGAS (PRWEB) November 17, 2022
- Jerome Baker Designs "JBD" has been a major leader in the cannabis industry since 1991. Founding the "JBD" company in a dorm room while attending college in Eugene, Oregon. Cannabis enthusiasts worldwide have long recognized "JBD" for its "World Famous Bongs".

"JBD" has taken home some of the industry's most prestigious awards, while creating luxurious glass for well-known celebrities, as Snoop Dogg and Tommy Chong. "JBD" glass has been a clear staple of the west coast since the early nineties.
And now, after thirty one years of creating the best glass in the game, "JBD" is now expanding into there first popup store in Planet 13, the Largest Cannabis Dispensary in the world. "JBD" is building a world class cannabis business, where cannabis connoisseurs can find their luxurious JBD glass, designed by our team of veteran artists in the worlds largest dispensary "Planet 13 Las Vegas".
In-store gift wrapping after Thanks Giving. Store hours 12-5pm 7 Days until Christmas Eve.
Living Glass Blowing Daily with Jason Harris.