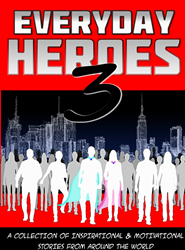 "Heroes come in all shapes and sizes. Some are famous, others are everyday people who do extraordinary things. No matter who they are, heroes make a difference in the lives of others."
PEACHTREE CITY, Ga. (PRWEB) November 16, 2022
They say, "third times a charm" and it's hard to believe Matt Bacak could be any more charming, but with his third "Blitz" installment, he proves that to be true. Bacak and his co-authoring team have worked tirelessly to produce another rousing collection of sentimental stories with the release of, "Everyday Heroes 3: A Collection of Inspirational and Motivational Stories from Around the World" this time with all proceeds being donated to Habitat for Humanity. The book will be available November 17, 2022.
"When we think of every day heroes, it's hard not to consider those that dedicate their time to building homes for others in need," states Bacak, "Knowing that this third installment is creating a safe space for so many families is what makes the Blitz, round three, worth it to us."
This blitz approach has seen success in the past and the team is certain it will be amplified this year with their thoughtful approach to raising money for a(nother) good cause.
With this book launch, all authors involved are offering digital bonuses to buyers valued at over $1,000 to incentivize sales and increase total donations to Habitat for Humanity.
"Everyday Heroes 3" is a special tribute to all of the hard-working, impressive people that take time out of their own lives to surprise and delight others during their time of need. It is empowering with a beautiful dash of humility that encourages readers to take even the smallest step toward becoming an everyday hero themselves.
"A hero is someone who is admired or idealized for courage, outstanding achievements or noble qualities" says Bacak. "Heroes come in all shapes and sizes. Some are famous, others are everyday people who do extraordinary things. No matter who they are, heroes make a difference in the lives of others."
The co-authors of "Everyday Heroes 3" include entrepreneurs, business owners and leaders from all over the world, including: Matt Bacak, Adam Baetu, Devon Brown, Dr. Ivan Carney, Dr. Chase Dansie, Ron Douglas, Richard Fedrizzi, Reed Floren, Tracy Grote, Mark Hartmann, Nat Hecht, Dr. Kate Hughes, Jeremy Kennedy, Jeanne Kolenda, Aaron Landreth, Alicia Lyttle, Ricky Mataka, Zach Maxwell, Anthony McCarthy, Barry C. McLawhorn, Mike Molloy, Anthony Thomas Parker, Michael Penland, Michael Powell, Ani Railkar, Preston Rahn, Marlon Sanders, Koni Scavella, Paula Slavens, Mr. X, Rob Wallace, Harvey Zemmel.
For more information on the Everyday Heroes 3 book, visit his page at http://EverydayHeroesBook.com or contact Matt at 404-537-1425.