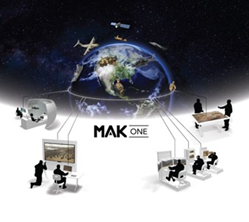 CAMBRIDGE, Mass. (PRWEB) November 28, 2022
MAK Technologies (MAK), a company of ST Engineering North America, today announced that it will showcase its MAK ONE suite of simulation software at I/ITSEC 2022. It will demonstrate a whole world synthetic environment for modeling, simulation and training in any domain as well as in multi-domain operations, including training solutions built with MAK ONE.
MAK ONE is comprised of simulation applications VR-Forces, VR-Vantage, VR-Engage, as well as infrastructure and LVC interoperability products VR-Link, MAK RTI, MAK Data Logger, and VR-Exchange. It provides the simulation framework for developers to build training and experimentation systems.
MAK will present its MAK ONE core products and demonstrate how MAK ONE can support the range of fidelities from single high-fidelity vehicle/subsystem models to large-scale simulations with large numbers of entities. Alongside the core product capabilities, visitors will see several demonstrations that show the scale and breadth of MAK ONE, from managing the airspace to addressing a regional threat, to simulating a battalion conducting a ground assault.
MAK will also present its training solutions built with MAK ONE, which are tailored, ready-to-use training systems that support customer-defined training and experimentation requirements, as well as its latest MAK FIRES, a realistic and portable MAK ONE-based training system that delivers effective Call for Fire training. MAK is partnering with other companies with booths across the show floor to demonstrate specific end user capabilities built with MAK ONE.
The MAK ONE suite of simulation software will be showcased at I/ITSEC 2022 taking place in Orlando, Florida from November 28, 2022 to December 2, 2022, booth #1413. Visitors are also invited to join MAK's Exhibitor Networking Event on Tuesday, November 29, 4:30pm to 6:30pm.
MAK Technologies Founder, Warren Katz, Named 2022 I/ITSEC Fellow
Warren Katz, MAK's founder, has been named the 2022 I/ITSEC Fellow and recognized for his significant influence in shaping current modeling & simulation technology. Warren will present his I/ITSEC Fellows paper and share his experience in the training and acquisition domains on Monday, November 28, 4.00pm to 5.30pm, Room W 300.
*****
ST Engineering North America is the U.S. headquarters of ST Engineering, a global technology, defense and engineering group with a diverse portfolio of businesses across the aerospace, smart city, defense and public security segments. Based in Alexandria, VA, it has major operations across 16 cities in 12 states and employs about 5,000 people providing innovative products and solutions to commercial and government customers across diverse market segments.
MAK Technologies builds solutions to your unique training challenges, built upon the strength and flexibility of the MAK ONE simulation platform. We have been delivering military simulation and training technology for more than 30 years, and the MAK ONE platform is the core of training simulations for the US Department of Defense and customers worldwide. Our end-user training systems are portable, easy to use and maintain, visually appealing, and able to meet individual and collective training requirements – including multi-domain operations. MAK Technologies is a company of ST Engineering North America. Please visit http://www.mak.com for more information.