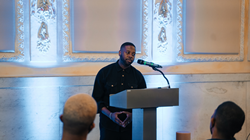 The performance includes deeply personal and reflective pieces and the film is a love letter.
PITTSBURGH (PRWEB) November 16, 2022
Mark Anthony Thomas, renowned poet and writer turned economic development official, will release the short film "Folded Whispers" revisiting his creative past on streaming platforms on Friday, November 18, 2022.
"Folded Whispers" is a 30-minute documentary short film produced by the creative firm Built Different. The event features Thomas being recorded and performing in front of an intimate crowd at the historic Kelly Strayhorn Theater. "Folded Whispers" is the poet's first feature event in 15 years and includes 17 new original poems on issues of identity, urbanism, love, loss, race, and the pandemic.
"Find a talent that can be a lifeline out of humble beginnings," Thomas said, "Writing about poverty and writing about communities, I actually wanted to be a change agent in shaping them."
Thomas has written more than 200 poems, published two books, and performed at events, universities, and conferences across the United States as a young adult. "Folded Whispers" welcomes stories of Thomas embracing his identity, reflecting on chaos and finding peace in that chaos. A night of poetry that will be shared on streaming platforms helps Thomas continue to reflect on this era and provide a contribution to the body of inspiration.
###
Mark Anthony Thomas has produced commissioned works for elected officials, business leaders, and many causes, including domestic violence, civil rights, child abuse, poverty, and global peace. He appeared on the Poetry Foundation's National Contemporary Poetry Best Sellers List in March 2006, won the Poetry Book of the Year Award in 2005 from the Los Angeles Black Book Expo, and was a nominee for Georgia Author of the Year for Poetry in 2005. In 2012, Getty Images honored the short film, featuring his poem "In This Shop," with the Global Mishmash Award.
VIDEO STREAM: