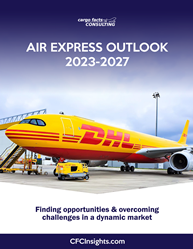 "2021 saw a continuation of high volume levels, but as business-to-business traffic returned, yields have improved. In 2022, volumes have started to drop but yields have remained high due to the surge in business-to-business activity."
NEW YORK (PRWEB) November 16, 2022
Cargo Facts Consulting (CFC), a leading global consultancy to the air logistics industry and a sister venture of industry publication Cargo Facts, today released its latest report which details the current state of the air express business, its evolution over the last decade, and a forecast of what lies ahead.
The 4th edition of Air Express Market Outlook provides a historical overview and five-year growth forecast of key international and domestic air express markets. The report analyzes the performance, positioning, and strategies of key global and regional express operators including Aramex, Blue Dart, DHL Express, FedEx, SF Express, and UPS in the light of emerging competition from e-commerce platforms and postal companies.
Given that almost two-thirds of the world's freighter fleet is operated by or for express companies, the Air Express Market Outlook also analyzes the medium- to long-term outlook for aircraft demand and subcontracted flying services. The report grants access to an interactive map that expands on topics such as global hub distribution and express air networks.
"Over the past 24 months, all express carriers have adapted quickly to handle the pandemic-driven surge in business-to-consumer shipments. Sixty-three percent of express volumes in 2021 were related to online shopping — up from just under 50% in 2019," said CFC Director Guillermo Ochovo. "2021 saw a continuation of high volume levels, but as business-to-business traffic returned, yields have improved. In 2022, volumes have started to drop but yields have remained high due to the surge in business-to-business activity."
The Air Express Market Outlook also includes interactive tools that allow users to analyze and understand the spatial dimensions of different aspects of the express logistics business. To learn more or to order the report, visit CFCInsights.com.
ABOUT CARGO FACTS CONSULTING
Cargo Facts Consulting is the premier aviation consulting firm specializing in the air cargo, express, e-commerce, and freighter business. The firm's extensive experience stretches over forty years, beginning with the deregulation of the U.S. domestic air cargo industry in 1978. Since then, CFC has served a wide variety of U.S. and international clients, including integrated express operators, all-cargo airlines, combination carriers, financial institutions, airport authorities, aircraft manufacturers, and industry suppliers. CFC has an outstanding reputation within the industry and is quoted frequently in the press on matters relating to airfreight markets and the application of freighter aircraft. For more information, visit http://www.cargofactsconsulting.com. CFC is a unit of Royal Media.