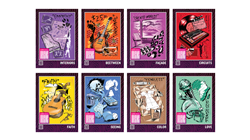 NEW YORK (PRWEB) November 16, 2022
Today, North America's premiere livestream shopping platform NTWRK announces a new collaboration with Audible Inc., the leading creator and provider of premium audio storytelling. In celebration of the new Audible Original series Origins, NTWRK and Audible have come together to create an exclusive pack of nine GAS trading cards, inspired by each of the artists in the series.
Produced by Fresh Produce Media, Origins is an eight-part audio experience featuring boundary-breaking musicians in their most intimate form as they interpret the question, "Where are you from?" Each episode brings listeners closer to the moments that shaped some of today's most notable artists through a mix of spoken narrative, immersive sound design, and original music performances. All eight installments of Origins will be available at Audible.com/Origins on November 17.
NTWRK tapped visual artist Naturel, who's known for his colorful illustrations that combine elements of Pop and Cubist art, to design the artist-inspired cards.
Naturel is a dynamic fixture in today's postmodern art scene and champions a Surrealist vision through his highly detailed, vibrant illustrations. His fine visual artworks often reinvent and reimagine cultural icons through an exploration of line drawings, fun colors, and the addition of eye-catching decals. His talents have attracted the attention of celebrity clients such as Lebron James, Macklemore, Swizz Beatz, and others. He has pushed the bounds of his profession as an artist even further by working as a creative director for worldwide campaigns for brands like Puma and Fiat, and has worked with multi-national powerhouses like Pepsi and the NBA.
Each Audible x NTWRK trading card will use the artist's story as inspiration, as their journey comes alive in a unique style and aesthetic. Available in a wide variety of special card formats, each card is standard trading card size (2.5" x 3.5"). Cards will come in special packaging and will come sleeved in a top loader with the official GAS sticker adhered to the top.
"It's been a pleasure to work with both Audible and NTWRK to envision what I see from these origin stories," Naturel says about the project. "I hope every listener will be as inspired as I am by these great artists."
The Audible x NTWRK trading card collection will be available for purchase during a NTWRK live episode on November 17, 2022 @ 3 PM PT/6 PM ET, hosted by Naturel.
While the artists featured in Origins hail from diverse backgrounds musically, culturally, and geographically and each has their own unique origin story, this series showcases the common denominator shared between them: a burning desire truly, a need to create and express one's self. Origins reveals the source of each artist's creative spirit; what fuels them. It's a unique peek into the minds of artists creating the next wave of popular music and it's an eye-opening account of just how soulful and articulate and purpose driven this generation of creators can be.
About NTWRK
Named one of Fast Company's "Brands That Matter" and "Most Innovative Companies" as well as Ad Age's "Hottest Brands," NTWRK is the premier North American livestream shopping platform where "entertainment meets e-commerce" (Forbes). Built on a digitally-innovative model of daily product drops, livestream shopping festivals, and exclusive partnerships with world-renowned brands and creators, NTWRK has fostered an organic global community of artists and fans since its launch in 2018. Under the motto "Shop, Watch, Connect" NTWRK provides a curated digital shopping experience that resonates with Gen-Z and millennial consumers.
ABOUT AUDIBLE, INC.
Audible, Inc., an Amazon.com, Inc. subsidiary (NASDAQ:AMZN), is the leading creator and provider of premium audio storytelling, offering customers a new way to enhance and enrich their lives every day. Audible content includes more than 760,000 audio programs from leading audiobook publishers, broadcasters, entertainers, magazine and newspaper publishers, and business information providers.
NTWRK on the web:
https://thentwrk.com/
https://www.instagram.com/ntwrk/
For more info, please contact:
ntwrk@shorefire.com