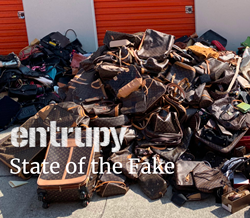 Our goal with this report is to help stakeholders better understand some of the trust issues impacting the industry and how, by working together, we can reduce the risks and increase confidence needed to grow the entire resale ecosystem.
NEW YORK (PRWEB) November 17, 2022
Product verification and identification technology company Entrupy today released the "State of the Fake 2022," a report that provides unique insights into the murky world of counterfeit products and how the company and industry overall are working to combat it.
In addition to overall trends across the most frequently counterfeited categories as observed by top agencies and organizations, the report provides proprietary insights based on authentications performed using the company's AI-based solution, which has secured over $1.7* billion in inventory since launch in 2016. For the first time, the report also reveals findings from early users of Entrupy Sneaker Authentication, a solution created to provide trust in transactions of the most in-demand styles in the rapidly growing and lucrative sneaker trade.
In this edition of the report, Entrupy also looks at resale with a lens extending beyond counterfeits, providing unbiased observations on trends in the rapidly-growing ecosystem while also offering objective suggestions on ways the industry can move forward to reach its full potential.
Key findings in the report include:
Rates of unidentified (cannot be verified as authentic) items:

While more than doubling the volume of authentications from 2020 to 2021, Entrupy found the rate of unidentified items to be fairly static, with 8.2 percent in 2020 vs. 8.3 percent in 2021.
For sneakers, the rate of unidentified items found since Entrupy began authentications in 2021 is approximately 16 percent.
Insight: Entrupy believes the large category difference is partially driven by the relative ease with which counterfeiters can create sneakers of high enough quality to require advanced, technology-driven verification versus luxury goods, which are much more difficult and costly to produce.
Unidentified rates by business type:

Unidentified rates for products sold through consumer-to-consumer (C2C) marketplaces, previously the platform with the greatest risk of encountering a counterfeit, decreased significantly - from 10.8 percent in 2019 to just 5.5 percent in 2021.
Insight: Entrupy believes this significant drop is a sign that anti-counterfeiting measures put in place by these marketplaces are successfully keeping fake products off of their platforms.
Unidentified rates by geography:

Higher than average Unidentified rates were found in Italy (21 percent), Philippines (20 percent) and Vietnam (15 percent).
Insight: As home to the majority of supported brands, Italy has a robust counterfeit trade, and despite law enforcement crackdowns and high fines, open air sales of fake products continue in high-tourism areas. For Vietnam and Philippines, the elevated incidences could be connected to their proximity to production centers in China.
Popularity & authenticity rates by brand (luxury):

Louis Vuitton was once again the most popular brand in the resale market - accounting for 34 percent of items authenticated by Entrupy's customers. The iconic Neverfull tote bag in the brand's signature Monogram canvas material continued to be the most authenticated style.
Goyard was the most counterfeited brand with over 21 percent being adjudicated as "Unidentified."
Insight: Entrupy posits that the limited number of points of sale combined with an intentionally small supply for authentic Goyard items is the main contributor to this high rate, as people without access to the real items will turn to counterfeits to state their desires.
Popularity & authenticity rates by brand (sneakers):

The average unidentified rates for Jordan and Yeezy branded styles were 15.9% and 15.6% respectively.
Insight: While Yeezy resale prices don't exceed retail to the same extent as Jordans', counterfeiters are motivated by a lower cost to manufacture which allows for higher profit margins. With the end of the collaboration, there is a potential for a surge in counterfeits as the increase in perceived rarity and decrease in points of purchase create higher demand - and higher resale prices.
The full report can be viewed at https://www.entrupy.com/state-of-the-fake-2022-report/
"Entrupy's position as an impartial provider of truth to some of the largest players in the resale ecosystem enables us to uniquely offer observations about the current realities of the manufacture and sale of counterfeit products," said Vidyuth Srinivasan, CEO and Co-founder of Entrupy. "Our goal with this report is to inform. By providing objective, data-backed insights along with cultivated research from reputable sources, we aim to help stakeholders better understand some of the trust issues impacting the industry and how, by working together, we can reduce the risks and increase confidence needed to grow the entire resale ecosystem."
Developed by a team of technologists, mathematicians along with industry experts, the Entrupy Luxury Authentication solution uses microscopic imaging and proprietary deep learning algorithms to verify the authenticity of high-value physical goods from the world's top brands. In 2021, Entrupy authenticated over $540M worth of inventory across luxury goods and sneakers, well over twice the $190M worth of inventory processed in 2020. These authentications are performed by Entrupy's business customers including e-commerce marketplaces, pawnshops and resellers that operate in the secondary market.
*As determined by average retail prices of authentic merchandise on the secondary market for products evaluated by Entrupy's technology.
About Entrupy
Entrupy is a SaaS company that uses computer vision algorithms and microscopy to identify and verify physical goods, adding security and protecting transactions in retail and resale. Founded and based in New York, the company's patented, proprietary solutions including luxury product authentication, sneaker authentication and product fingerprinting are used globally by businesses, governments and other organizations for whom maintaining trust is mission critical. Investors include DG Lab Fund, deep learning pioneer and Chief AI Scientist at Meta , Yann LeCun, serial entrepreneur and investor Zach Coelius, cloud computing pioneer and luxury-focused VC firm Lyra Ventures. For more information, visit https://www.entrupy.com.