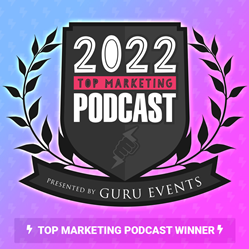 "The idea behind starting our podcast was to build a connection with the B2B audience. This win reassures us of the connection we've built with our listeners and we are extremely grateful for their support."
BOCA RATON, Fla. (PRWEB) November 18, 2022
Thousands of Votes Were Cast by Members of The Marketing Community and Over 100 Podcasts Were in Contention.
GURU Events today announced the winner of the 2022 Top Marketing Podcast Award. This award, presented to Sunny Side Up by Demandbase, represents excellence in podcasting for the marketing community.
Being named the winner of the 2022 Top Marketing Podcast is a significant accomplishment. GURU Events hosted a tournament style public voting process that occurred over a period of 8 weeks. Each week the field of nominees were presented to the overall marketing community for consideration. The field was narrowed each week until the final Marketing Podcast was left standing as the winner of the GURU Events 2022 Marketing Podcast of the Year.
GURU Events is proud to announce that, after thousands of industry professionals' votes, Sunny Side Up by Demandbase is the winner of the 2022 Marketing Podcast.
"The idea behind starting Sunny Side Up podcast was to build a connection with the B2B audience by providing them impactful and original content that's based on actionable insights sourced straight from the leaders. This win reassures us of the connection we've built with our listeners and we are extremely grateful for their support."
-Harshal Gawali, Head of Sunny Side Up Podcast and Marketing at Demandbase.
"This win wouldn't have been possible without our amazing podcast team, guests, and of course, our dedicated listeners. This is the sixth content award our team has won this year, which really shows that when you put great people together, who are all focused on being the best at what they do, great things happen! We look forward to producing more top-tier GTM content that engages and educates our listeners."
-Jon Leiberman, VP of content, influencer and social marketing at Demandbase.
About Sunny Side Up Podcast:
Sunny Side Up Podcast - powered by Demandbase is on a mission to help go to-market teams evolve and stay up-to-date on the latest tactics and trends in B2B. The podcast takes a deep dive into topics that are top of mind for every marketer, seller, and data science professional.
This is a podcast for all the knowledge hungry GTM professionals and leaders who seek to push the boundaries of B2B sales, marketing, and data science. With over 350 episodes to explore from and two new episodes released every week, be sure to subscribe to the show for the juiciest insights on go-to market.
Contact:
Harshal Gawali
hgawali@demandbase.com
+1 415-728-9372
Subscribe: Website | LinkedIn | Apple podcast | Spotify | Google | Pocket Casts
About GURU Events:
GURU Events is the leading media organization focused on knowledge sharing within the marketing industry. Helping marketers have access to the latest best practices, trends, and essential tactics is our focus. GURU Events hosts large scale virtual conferences, networking events, awards & recognition programs and more. GURU Events is the parent organization of GURU Conference, the world's largest virtual email marketing conference and DELIVERED Conference, the world's largest virtual direct mail marketing conference.
For general inquiries, please contact us at: Team@AttendGURU.com