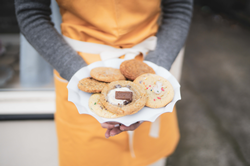 "The only thing sweeter than a box of cookies is three months' worth," said Founder Tiffany Lewis.
SEATTLE (PRWEB) November 17, 2022
Just in time for the holiday season, Cookies With Tiffany, a woman-owned, small-batch cookie company on a mission to form community through the joy and nostalgia of a freshly baked cookie, is bringing back its popular "The Cookie Squad" Cookie Box Subscription – perfect for holiday gifts, or simply any cookie lover who would enjoy freshly baked cookies straight to their door, monthly!
Starting this Black Friday, customers can purchase a subscription to Cookies With Tiffany (for themselves or as gifts!) for $160, inclusive of shipping. Recipients will receive one dozen cookies each month for three months. Each box will consist of "Baker's Choice" cookies, curated to align with new seasonal rollouts and unique cookies from the Signature Line, which include:

Seasonal Cookies: Chocolate Crinkle (DF), Candy Cane Crinkle (DF), Holly Jolly (a funfetti cookie in holiday hues)
Signature Line: S'more, Chocolate Chip with Flaky Sea Salt, Toffee, Celebration Cookie (yes, there are loads of sprinkles), Party Animal (think the pink and white frosted animal cookies from childhood and supermarket shelves!), Molasses, Oatmeal Raisin, Snickerdoodle, BLD (coconut oatmeal chocolate chips).
Gluten Free & Dairy Free: Peanut Butter (GF/DF), Chocolate Chip (GF), Chocolate & Peppermint Crinkle (DF)
"The only thing sweeter than a box of cookies is three months' worth," said Founder Tiffany Lewis. "Last year's cookie box subscription was a hit, and we're thrilled to bring back this offering for gift-givers and cookie-lovers everywhere. And for those who just need a sweet treat to take to a holiday party or event, we've got you covered!"
Lewis is a Le Cordon Bleu-trained chef who has worked with Curtis Stone, Giada De Laurentiis, Food Network, and more world-renowned brands. When she lost her COO job due to the COVID-19 pandemic, Tiffany pivoted to what had brought her joy years before: baking cookies. Today, she's building a lifestyle brand rooted in the idea of forming community around food — specifically cookies! Tiffany likes to think of her business as a movement to bring people together, one cookie at a time.
Cookies With Tiffany also offers cookies by the dozen, packaged in a crisp white box and festive holiday red satin ribbon to adorn, available for nationwide shipping. Perfect for holiday parties, events, and gifts, consumers can curate a custom selection of cookies from the company's Seasonal Cookies or Signature Line from $36–$45 for one dozen or $72-$90 for two dozen, plus shipping. Or, leave it to Cookies With Tiffany and choose a Baker's Choice box: $40 for 1 dozen or $76 for two dozen, plus shipping.
The company also offers corporate gifting to give clients, customers, and teams a refined and one-of-a-kind experience. Sweet treats include the option of personalization with the opportunity to include your business card, a personalized note, and even your company's signature color ribbon.
About Cookies With Tiffany Cookies with Tiffany is a woman owned, baked-to-order cookie company based in Seattle, WA. Founder Tiffany Lewis is on a mission to "create connections and spread joy through cookies." Professionally trained at Le Cordon Bleu, she's worked on the culinary team for celebrity chef Curtis Stone and in food styling and culinary production for Giada De Laurentiis and The Food Network. As the personality and brand ambassador at TheTableTogether.com and former culinary instructor at Sur La Table, Tiffany has all the right ingredients to whip up cookies that leave an impression. Learn more at http://www.CookiesWithTiffany.com.
###