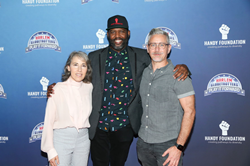 "The Handy Foundation's involvement in the Career Pathways Program will help ensure California has a diverse and highly skilled workforce for our productions," said California Film Commission Deputy Director of the Tax Credit Program Nancy Rae Stone.
LOS ANGELES (PRWEB) November 17, 2022
Following a competitive RFP process, the California Film Commission has selected The Handy Foundation as the latest training partner for its Pilot Career Pathways Training Program, which helps prepare individuals from underserved communities for careers in the film and TV production industry.
The Pilot Career Pathways Training Program is an important component of the state's Film & Television Tax Credit Program 3.0. It was created in part to attract new and diverse talent for careers in the film and television industry while helping meet the demand for skilled workers.
"With the rise of 'Peak TV,' the need for trained film and TV workers has grown, and The Handy Foundation's involvement in the Career Pathways Program will help ensure California has a diverse and highly skilled workforce for our productions," said California Film Commission Deputy Director of the Tax Credit Program Nancy Rae Stone, who oversees the Career Pathways Program with Program Director Kevin McDonald.
The work of the Handy Foundation extends beyond training to include job placement, which makes it unique. The effort is led by Ri-Karlo Handy, a veteran film and television executive and creative professional who developed non-profit organization The Handy Foundation to help address systemic issues that create barriers to access Hollywood creative jobs for aspiring professionals from underserved communities. Following hands-on training with program participants, THF facilitates placement into skilled positions on series and movies at dozens of production companies, studios, and networks. Partners include ITV Studios, IPC, Fremantle, Original Productions, 44 Blue, Critical Content, Warner Horizon, Bunim-Murray, A-Smith & Co. Productions, and Tinopolis, among others.
In the last 20 months, The Handy Foundation has successfully placed 95 assistant editors on television shows like Snowpiercer, BMF, Acapulco, The Bachelor, America's Got Talent, American Gangster: Trap Queens, Selena + Chef, and the recently released feature film Valet to name a few. Following the program, 90% of trainees have continued working on union shows and film projects. The Handy Foundation provides continued support and mentorship as graduates of the program transition to other opportunities in the industry, says Handy, though most successfully secure their next position on their own due to their training and subsequent work experience.
"One of the most important findings from our research on California's creative economy is that we need to do a better job recruiting, training, and retaining a workforce that reflects our state's rich diversity," said Adam Fowler of CVL Economics, a Hollywood research firm. "Consumer demand for representation in film and television is driving industry demand for creatives from historically underrepresented groups. If we want to meet this demand, then it is vital that we understand and address the systemic barriers to inclusion that exist in career pathways and talent pipelines. Yet it's rare to find programs that equip emerging creatives with the skills aligned with rapidly evolving industry needs. In my mind, the Handy Foundation has always stood out as an outstanding workforce development program, which succeeds because of long-standing and meaningful partnerships across Hollywood."
With this new grant from CFC, THF is expanding to other production related roles, including unreal engine specialists for virtual productions; data wranglers and digital imaging technicians; and post coordinators.
"The need for assistant editors with proficiency in professional TV / Film workflows is still massive," said Handy. "But the addition of these new roles will increase opportunities for more folks to gain the experience and credits needed to have a long career in Hollywood."
Using social media and community outreach partners, the organization will recruit applicants to complete an online application available at the Handy Foundation website. Community partners include the Urban League of Los Angeles, NAACP, Television Academy, Para Los Niños, Hire LA,, Better Youth, LACC, Mount Sac College, Cal State Northridge, KDOL TV in the Oakland Public School district, Youth Media Oakland CA, Streetlights and Manifest Works Alumni. The program serves as a next step for members of these organizations, as THF helps trainees elevate from internships and entry level motion picture industry jobs to long-term careers.
To learn more about The Handy Foundation, call 818-235-3456 or visit online at http://www.handyfoundation.com.
About CFC
The California Film Commission (CFC) is one of several economic development departments within the Governor's Office of Business and Economic Development working to attract, retain, and expand business opportunities in California. The CFC supports a production-friendly environment to retain and grow production jobs and economic activity statewide, enhancing California's position as the leading location for all forms of media content creation nationally and globally.
About The Handy Foundation
The Handy Foundation, founded by Ri-Karlo Handy, CEO of Sunwise Media, is dedicated to giving members access to expert career advice through digital workshops, live panel discussions, and virtual mentorship. Through partnerships with organizations such as The Urban League, NAACP, unions, networks and studios, The Handy Foundation works to foster programs that focus on training and career advancement for below the line, skilled workforce positions. Additionally, The Handy Foundation continues to expand efforts to foster mentorship with the goal to create a bridge for program participants between education and training organizations and companies that can hire them. For more information on programs and the organization, visit: http://www.handyfoundation.org/