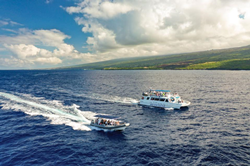 KAILUA-KONA, Hawaii (PRWEB) November 22, 2022
Body Glove Cruises, a leading activity company in Kona on the Big Island of Hawaiʻi, unveiled its new 41-foot boat, The Kona Explorer. The Kona Explorer joins its sister ship, the Kanoa II, a 65-ft. luxury catamaran, where both vessels operate commercially from the Kailua Pier.
Operations Manager, Captain Jeremie Betts, and crew drove the vessel over 170 miles from Ko Olina on Oahu to Kona in record time, a total of eight hours, arriving at the Kailua Pier on August 5, 2022. Determined to distinguish itself from the rest, the Kona Explorer, a 41-foot "Super Raft" is outfitted with two Suzuki 350 engines to take it farther and faster than most boats, without sacrificing the comforts of a bigger vessel: cushioned bench seating, shade, storage for belongings, and a restroom. Guests aboard the Kona Explorer can experience multiple snorkeling locations, not accessible by most tour operators, due to distance and accessibility. Witness historical sites, lava flows, caves and snorkel sites, and wild marine life along the Kona Coast and only seen by few.
For marine mammal and pelagic enthusiasts, the Kona Explorer is designed for offshore adventures. Besides Hawaii's seasonal Humpback Whales, the Big Island is home to 18 other species of marine mammals year-round, including Pilot Whales, Sperm Whales, Orcas, a variety of rare dolphins, and more. While out at sea, guests are treated to delicious and locally sourced snacks and lunch and accompanied in the water by experienced crew who can also serve as guides and impromptu naturalists. The Kona Explorer is also available for private charters.
Founded in 1990, Body Glove Cruises offers a variety of cruises along the Big Island of Hawaii's Kona Coast, including dolphin adventures, dinner cruises, and whale watching tours. All their cruises are complemented by first-class amenities on board their state-of-the-art, 65-foot catamaran, The Kanoa II, and their new addition, The Kona Explorer. The Extraordinary Snorkeling Experience aboard the Kona Explorer is now operating, just in time for Hawaiʻi's annual visitors, the majestic Humpback Whales.