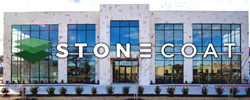 While we are at 90% less carbon emissions on our siding options relative to traditional stucco and manufactured stone systems, we are investing in further R&D to drive to full Netzero – and we will get there.- Joseph Mrak, CEO
DALLAS (PRWEB) November 29, 2022
StoneCoat is a leading green building materials company with two lines of sustainable building materials: Smooth and Carve. StoneCoat recently raised an undisclosed amount of capital to manage the strong growth the firm is encountering in the demand for its products. While the StoneCoat products have been in the market for nearly 20 years, the firm has restructured under new ownership to best take advantage of the current market and demand for climate solutions in the building materials industry. The new capital will be used for investments in R&D and product development investments, sales and marketing, and executive talent to drive execution.
Joseph Mrak, an accomplished pioneer in many industries, recently became CEO of StoneCoat and is focused on driving the strategy and commercialization of their products. Before StoneCoat, Mr. Mrak was the Global Head of Wealth at the London Stock Exchange (LSEG), where he was instrumental in rolling ESG out as a new standard in investing.
Ralph Bush will be the President of StoneCoat focused on the decarbonization of cementitious veneers. Bush brings an extensive architecture and construction background as well as a degree in environmental design to the table and will focus on R&D to further develop our product to true NetZero. StoneCoat has also added accomplished talent in the COO, CRO and CFO roles, with Conor Butts, Zach Williams and Scott Casler, respectively, all joining the firm. All have deep experience in innovative growth companies with proven results in bringing industry-changing technologies to market.
"The time was right for us to inject capital into StoneCoat and our world-class green products given the recent industry dynamics around climate policy and cost pressures." Joseph Mrak, StoneCoat CEO, said, "While we are at 90% less carbon emissions on our siding options relative to traditional stucco and manufactured stone systems, we are investing in further R&D to drive to full Netzero – and we will get there. We also are investing in sales and marketing and building a world-class executive team to disrupt the industry."
The Texas-based manufacturer has a patent on its proprietary formula and application of StoneCoat CARVE® and StoneCoat SMOOTH, a lightweight veneer system suitable for exterior and interior applications. StoneCoat's products have been third-party validated to meet ASTM international standards and ICC AC-11 equivalency. StoneCoat products have a life cycle assessment to substantiate environmentally friendly claims of significantly reduced carbon footprint during the manufacturing process of the veneer system versus traditional cementitious-based stucco, brick and manufactured stone alternatives.
StoneCoat believes sustainability and affordability should be two sides of the same coin. In lieu of hyperinflation, StoneCoat products remain competitively priced and are increasing in their appeal to constituents such as Developers, Architects, General Contractors, and homeowners confronted with the need to Value Engineer their projects.
StoneCoat products adhere to a variety of different substrate systems Wood, dens glass, CMU, SIP panels and brick, to name a few making it perfect for new construction and rehab projects. StoneCoat Carve is installed using integral pigments and coated with a clear water-repellent sealer making it 100% UV-protected, mold & crack-resistant, waterproof and virtually maintenance-free, all backed by a manufacturer's 20-year warranty. For more information, visit our website https://stonecoat.com/ or reach out at (866) 913-5341.