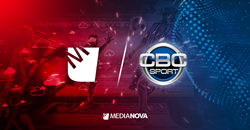 CBC Sport Azerbaijan President Volkan Üstü: "As CBC Sport, we are pleased to continue our successful path with a strong cloud service provider like Medianova. We are happy to provide very high quality and reliable service to Azerbaijan and Azeris around the globe."
ISTANBUL, Turkey (PRWEB) November 24, 2022
CBC Sport of Azerbaijan, the official broadcaster of the Champions League and the Europa League started to use Medianova CDN.
Medianova CEO Serkan Sevim: "We have achieved another important success with our cooperation with CBC Sport, Azerbaijan. We continue our activities with the vision to be the fastest and largest CDN provider in Europe, the Middle East and Africa. CBC Sport's live streaming will be accesible globally from Medianova's 50+ PoPs around the world. We are also happy to announce that our recently completed investment in Romania will make sure we are faster in Eastern Europe. Medianova will continue to grow globally."
SOCAR's subsidiary CBC Sport Azerbaijan is among the largest channels in the country broadcasting many sports events such as the UEFA Champions League and UEFA Europa League matches.
Evaluating the cooperation, CBC Sport Azerbaijan President Volkan Üstün commented "As CBC Sport, we are pleased to continue our successful path with a strong cloud service provider like Medianova. We are happy to provide very high quality and reliable service to Azerbaijan and Azeris around the globe."