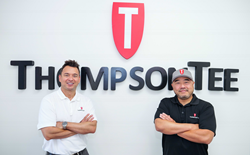 Working with SCORE helps us focus our business, resulting in a revenue increase across the board.
LAS VEGAS (PRWEB) November 29, 2022
Apparel brand Thompson Tee is among 20 small businesses selected to share and film their entrepreneurial journey for SCORE's latest success stories campaign, which runs through 2023.
Billy Thompson and Randy Choi, co-founders of Thompson Tee, developed a patented sweat proof undershirt that prevents underarm sweat and stains from permeating clothing.
The pair started the company with just $20,000. In 2012, they connected with SCORE, a nonprofit organization that helps entrepreneurs and small business owners navigate business challenges. The co-founders then gained the momentum to turn their product into a thriving international ecommerce business.
Thompson and Choi appeared on Shark Tank in 2017, marking a significant milestone in their entrepreneurial success. Since then, Thompson Tee's sweat proof products have gained global recognition, helping thousands of customers regain their confidence with a safe, natural solution for heavy underarm sweating. This year, Thompson Tee celebrates its 10th anniversary.
Earlier this summer, SCORE launched a campaign to capture the enthusiasm of their client success stories, raise awareness of SCORE and drive new mentoring requests.
"The quality of [SCORE's] mentorship and resources are worth millions," Choi said.
The co-founders credit their SCORE mentors as vital contributors to the launch, growth and continued success of Thompson Tee, which achieved 100 percent year-over-year growth from 2012 to 2017. In 2019, Thompson Tee celebrated one million shirts sold.
"Working with SCORE helps us focus our business, resulting in a revenue increase across the board," Thompson said.
Other achievements include receiving the 2018 Outstanding Diverse Business SCORE award due to Thompson Tee's consistent growth, international customer base and diverse staff. Thompson Tee was first selected as a National SCORE Success Story in 2017.
About Thompson Tee
Based in the USA, Thompson Tee manufactures affordable sweat proof undershirts for men and women to help preserve their clothes and confidence. The proprietary shirt design combines the style and comfort of high-quality undershirts with its patented Hydro-Shield® sweat proof technology to offer guaranteed sweat protection. For more information, visit http://www.thompsontee.com.
About SCORE
Since 1964, SCORE has helped 11 million entrepreneurs start, grow or troubleshoot their businesses. In addition, SCORE's 10,000 volunteers provide free mentoring, workshops and educational services to 1,500+ communities nationwide. For more information, visit https://www.score.org/.