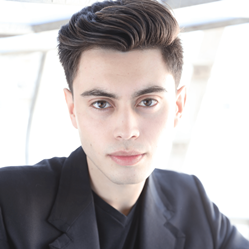 "My aim was to focus on the rapid evolution of what brands we were partnering with and the innovation of the services that the agency was delivering to ensure the highest impact on our client's bottom line"
LOS ANGELES (PRWEB) November 29, 2022
TLK Fusion, a world renowned hybrid marketing and retail servicing firm in Los Angeles,CA, proudly announces the promotion of Ken Collis III to vice president of TLK Fusion. Emerging as one of today's most promising young entrepreneurs, Ken, has started to leave his imprint on the business and marketing world. With more than a billion dollars in product placement and an innovative 360 Degree approach to marketing, the organization has benefitted from the fresh new perspective that Collis has brought to the table. Collis formerly held the title of Vice President of Client Acquisition.
"To be a part of this powerful family owned and operated agency has provided me the opportunity to develop a strong passion for the marketing industry," states Collis. "Some of my earliest memories were sitting beside my father and watching what he was doing with great intrigue. I look forward to growing our organization to the next level with a core focus on the clients journey and delivery of results."
Collis began his journey with TLK Fusion at the age of fourteen. While stopping into the office, he would find himself captivated by the activity that was bustling around him and would often sit in the planning and strategy meetings absorbing the dialogue, offering a fresh perspective from the eyes of a young customer. Through his formative years, Collis held several positions with the organization learning and mastering each division, working towards elevating what was being delivered to clients. In his most recent position as Vice President of Client Acquisition, Ken Collis III was integral in TLK Fusion Inc being awarded the Inc5000 Fastest Growing Private Businesses in 2020, 2021 and 2022 through the development of the team and focused attention on needed adjustments to business practices. TLK Fusion has experienced substantial growth in the past five years attributable to the involvement of Collis III.
"My aim was to focus on the rapid evolution of what brands we were partnering with and the innovation of the services that the agency was delivering to ensure the highest impact on our client's bottom line," says Collis III. "The marketing industry has seen great change in a short period of time, as the digital world and the retail industry has been forced to evolve to keep up with client demands. TLK Fusion has always been the trendsetter and innovator, and I am thrilled to take on a larger role in the agency as we move quickly into the future."
TLK Fusion remains the only award-winning hybrid agency that combines both signature marketing services with the power of bringing products to the retail community. As a leader in the industry, TLK Fusion has reset the business model that modern agencies are based on.
About TLK Fusion: TLK Fusion (https://tlkfusion.com/) is an innovative, fast-paced, pop culture, Hollywood marketing firm based in Los Angeles, CA. Established in 2009 by successful entrepreneur, Ken Collis Jr., TLK Fusion boasts an A-List roster of celebrity talent but also has an aggressive footprint in Influencer Marketing and Distribution into Retail markets. TLK Fusion's unique out-of-the-box thinking and 360-degree service mix have proven successful throughout its history. As the recipient of many accolades and awards that include multiple Best in Biz Awards, The Rolling Stone Magazine Impact Award, the notorious Golden Bridge Award, a coveted Stevie Award, numerous Clutch Awards, consecutive Entrepreneur 360 Awards, and finally INC5000 Fastest Growing Companies for three consecutive years in 2020, 2021, and 2022 TLK remains the brand's choice of firms to partner with and experience real growth.
About Ken Collis III: Collis as a graduate of Bishop Alemany located in Southern California, has grown exponentially in the marketing industry as a fourth-generation entrepreneur in the notorious Collis family. Following in the footsteps of his serial entrepreneur father, Ken Collis Jr., he has been emerging as one of today's most promising young entrepreneurs. He possesses a keen understanding of current trends in business that spur real business growth and revenue generation. As an avid communicator, he has led his team to great success in the new acquisition of business. Ken has a laser focus on his fitness and wellness, practicing a healthy core lifestyle that sees him at the gym daily. He maintains a passion for cars stating, "ultimately, I love cars — any and every car — because they're like people. They have a personality, and everyone is different. They all have a voice"