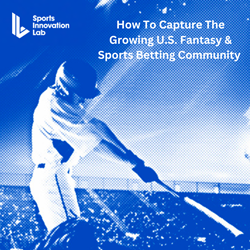 Sportsbooks must adjust their products and content to attract untraditional bettors if they want to sustain growth.
BOSTON (PRWEB) November 29, 2022
A new report released Tuesday by Sports Innovation Lab found that despite a 180% increase in average annual wagering per person by cross-channel bettors (those who bet both online and in-person) over the past three years, the sports betting market is facing a potential sharp decline in growth within its existing customer base of primarily daily fantasy users. With state legalization losing steam via major defeats at the ballot box, and heavy market consolidation reducing future merger and acquisition activity, sportsbooks are now challenged to change products and content to attract untraditional bettor customers.
This finding is one of many new data-rich insights on the near-term outlook of sportsbooks and the sports betting market found in Sports Innovation Lab's "How to Capture the Growing U.S. Fantasy and Sports Betting Community" Report, which is now available for purchase at sportsilab.com.
"The national slowdown in sports betting M&A and legalization threatens to create a corresponding slowdown in sportsbook growth, unless books can create a radically new fan experience to expand the addressable market," said Josh Walker, Sports Innovation Lab co-founder and president. "The number of fantasy players and base bettors available for acquisition that growth to date has been predicated on is dwindling. We produced this report to provide U.S. sportsbooks clarity on this threat and data-driven guidance for sustaining growth through a transition in strategy."
Sports Innovation Lab additionally found over the course of a three-and-a-half-year market analysis from August 2018 to January 2022 found that following state legalization, first-time bettor volume did not exponentially increase, indicating that sportsbooks must not rely on legalization for long-term sustained user growth.
"How to Capture the Growing U.S. Fantasy and Sports Betting Community" is essential guidance for strategy and financial officers tasked with overcoming these market conditions. Featuring guidance and analysis from Sports Innovation Lab's team of experts trusted by the sports industry's largest brands, "How to Capture the Growing U.S. Fantasy and Sports Betting Community" offers a reliable outlook on the betting industry through early market maturity. Additional topics covered in-depth via data exploration include, but are not limited to:

Cross-channel bettor behavior and the effect of on-premise sportsbooks at sporting venues on bettor activity
Sports betting's effects on the competition for media rights
Where new bettors will come from, their core behavioral traits, and how to win them
To purchase the full version of the report, visit Sports Innovation Lab's Report Store. A free, abridged version of the report is also available to Sports Innovation Lab newsletter subscribers.
Sports Innovation Lab will host a free webinar on Dec. 14 to break down the report's findings, including implications on the strategies of gaming operators, sportsbooks, and advertisers moving forward. To register, visit this link.
Sports Innovation Lab has built the industry's leading fan intelligence company, providing observational data on Fluid Fans with the tools and strategies needed to acquire them. To enter the conversation around this sports betting report on social media, follow @sportsilab and @angelaruggiero.
About Sports Innovation Lab
Sports Innovation Lab is a fan intelligence and market research company that helps the world's leading sports organizations acquire the fan of the future - the Fluid Fan™ - and maximize their value. We collect and analyze observational data on what fans buy, watch, and how they behave, then provide analysis and strategic interpretation of that data to world-class clients such as the NFL, NHL, FIFA, Google, Facebook, Coca-Cola, Visa, and Puma. Learn more at sportsilab.com.