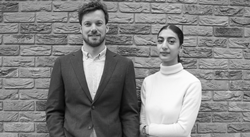 Europe's biggest Revenue Based financing platform, Levenue, Launches Subscriptions As an Asset Class for Angel Investors.
LONDON (PRWEB) November 28, 2022
Levenue Launches Subscriptions as an Asset Class for Angel Investors
Levenue, Europe's biggest Revenue-Based Investing marketplace, is now allowing private investors to transact. After 12 months of trading the newly created asset with institutional investors, Levenue now offers access for private investors to diversify their portfolio while mitigating risk with exposure to Revenue Based Finance.
To launch this new approach, Levenue is now offering access specifically for people with experience as angel investors.
Ben Rieder, Co-Founder of Levenue, Angel Investor, & Serial Entrepreneur:
"In times like these, entrepreneurs and CFO's of growth companies are looking for solutions to secure & extend their runways. With equity investment valuations down at least 40% since last year, non-equity financing has become the go-to option. The recurring nature of subscription revenues makes them a highly predictable and, thus, stable asset. Through its marketplace model, Levenue has created a way for investors to acquire these assets and the future cash flows they represent. After a successful first year limiting access for institutional investors, it now makes sense to open up this asset class for other experienced growth investors."
Angel investors know and understand high growth companies. Their investments enable entrepreneurs to finance that growth in return for a piece of the equity. With mid- and long-term market conditions being unclear, diversifying exposure to growth companies with short-term fixed income assets mitigates a lot of that risk by providing stable high yield returns.
Zahra Alubudi, Co-Founder of Levenue:
"Opening up Revenue Based Investing to angel investors is a very exciting moment in our company's history, as it completely changes the game. Until now our marketplace was dependent on large institutional players to provide funding for deals. By expanding access we don't only enable the broader public to profit from the opportunity we've created, but also significantly increase the volume of capital invested into it! It's David and Goliath all over again!"
What are the benefits of Revenue-Based Investing?
Revenue-Based Investing allows the investor to buy future recurring revenue of a subscription-based company at a discount. That means there is no dilution for the founders and shareholders of the business and a stable fixed-income generating investment for the investor. Levenue enables angel investors to participate in the same deals institutional investors have been making on the platform for over a year. Through our novel co-investing model, angels can mitigate the risk of financing growth companies through diversifying the assets they receive in return for their investment by co-investing with other angels, and have access to companies across Europe.
Zahra Alubudi, Co-Founder at Levenue:
"Angel investors play a vital role in the start-up economy, and it has always been our wish to involve them in our marketplace. They understand subscriptions, and thus the value of the underlying assets our platform thrives on."
Levenue is creating more opportunities for founders and investors. Not only does this make it easier for private investors to get alternative less risky exposure to high-growth companies, but it also creates valuable non-dilutive financing opportunities for entrepreneurs allowing them to exponentially grow their business.
You can learn more about this new asset class here: angels.levenue.com