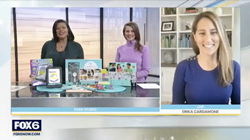 Great play is not just about fun, or language development, it's about going deep in both.
PHILADELPHIA (PRWEB) November 29, 2022
Regular interaction with children guides Play On Words CEO and speech-language pathologist, Erika Cardamone, to unique set of the best toys, games, books and media that have the chemistry to develop language while delivering great play. Today, Play On Words is announcing its annual "Top 10 PAL Picks for 2022/Holiday Gift Guide" by age and product category. Our Top 10's take the guesswork out of giving great holiday gifts. Parents and grandparents use our lists to shop for smart toys with lasting play value.
Winners are assessed and reviewed by Erika with input from parents, kids and educators. Observing kid's play in action, combined with her critical eye for language potential, Erika awards products and writes insightful reviews offering practical tips on how to maximize the educational value in each winner catalogued on Playonwords.com.
Language catalyzing PAL winning toys and games are powerful additions to a child's tool box, since children learn through play, and language is integral to learning! Our 2022 Top 10's include a number of great winners that inspire imagination and story-telling with engaging props from the jungle with PLAYMOBIL's "Wiltopia Research Station," creating a camping adventure with MindWare's "Canoe Set," to retelling scenes at Diagon Alley with Harry Potter by Spin Master. Promoting children's critical thinking is a strong theme throughout this year's winners, often combined with STEM skills as children design and build magnetic marble runs with "Squaregles," conduct daily experiments with Crayola's "Tie-Dye Color Chemistry Lab," and learn about animals through mock dissections from "Dissect-It" by Top Secret Toys. The toy industry continues to value new toys, games and books to promote literacy. Kids listen to stories from their favorite characters with "Toniebox" to encourage narrative development and listening comprehension, learn sound-letter correspondence with LeapFrog's "AlphaPup," and build confidence spelling with SimplyFun's "Chalk-a-Word."
Erika's expertise has been tapped by FOX6 News in Milwaukee, PHL17, WSYR, Honest Company Blog, and ASHAsphere (official blog of the American Speech Language Hearing Association).
For Erika, great play is not just about fun, or language development, it's about going deep in both. Her expertise has been built on science and thousands of hours of client experience. Each set of Top 10's represents a breadth of themes and genres, but they all have one thing in common - they are trusted lists of fun products that boost learning through play. Here are 2022's Top 10 PAL Picks - See her reviews at http://www.playonwords.com
TOP 10 TOYS: INFANT

100 Things That Go by LeapFrog
Animal Rhymes Music Book by VTech
Baby's First Book of 44 Sounds by SmartNoggin
Gymotion Circus Playland by Yookidoo
I See Me Lion Mirror by VTech
Kick and Score Play Gym by VTech
Little Castle Pound and Roll Toy by Bababoo and friends
Turn & Learn Ferris Wheel by VTech
Ultra Baby Spring Float by Swimways
Wilma Whale Stacking Toy by Bababoo and friends
TOP 10 TOYS: TODDLER

EleFountain Water Show by Yookidoo
Ironing Time Learning Set by LeapFrog
Junior Marble Run by MindWare
My Pal Scout Smarty Paws by LeapFrog
Oh So Fun! Canoe Set by MindWare
Poppy the Count and Stack Flower Pot by Learning Resources
Scoot Around Bike by Hape
Smart Chart Medical Kit by VTech
Wooden AlphaPup by LeapFrog
WOWmazing Winter Kit by South Beach Bubbles
TOP 10 TOYS: PRESCHOOL

Ball Blaster Water Cannon by Yookidoo
Cocomelon Magna-Tiles Structures Set by CreateOn
Design & Drill Bolt Buddies by Educational Insights
Mobile Chicken Coop by Schleich
Peppa Pig Toniebox Starter Set by Toniebox
Scribble Scrubbie Pets, Arctic Igloo and Safari Treehouse by Crayola
Super CityScape Transport Bucket by Hape
Teach and Talk Cash Register by MindWare
Wildlife Ranger Adventure Station by Schleich
Wiltopia Research Station with Compass by PLAYMOBIL
TOP 10 GAMES: PRESCHOOL

Explorer Puzzles: Dino, Underwater and Space by Learn with OjO
Funny Bunny by Ravensburger
Ghost in the Attic by MindWare's Peaceable Kingdom
Glow-in-the-Dark Dig It Up! by MindWare
Glow-in-the-Dark Monster Puzzle by The Learning Journey International
MathLink Cubes Numberblocks 11-20 Activity Set by hand2mind
My First Big Floor Puzzle: Fire Truck, Recycle Truck, Train, and Digger by The Learning Journey International
Pattern Party: Cocomelon by Funko Games
Puzzle & Play: Construction and Fantasy by MindWare's Peaceable Kingdom
Recycling & Conservation Pattern Block Set by hand2mind
TOP 10 TOYS: SCHOOL AGE

Art-chitect by MindWare
Build-a-Bubble by South Beach Bubbles
Contraption Reactions by MindWare
Dissect-It by Top Secret Toys
PixoBitz Studio by Spin Master
Squaregles Starter Set
Techno Tiles by The Learning Journey International
Tie-Dye Color Chemistry Lab by Crayola
Wizarding World of Magical Minis Diagon Alley Playset by Spin Master
ZipLinx Triple Tower Blast by Blip Toys
TOP 10 GAMES: SCHOOL AGE

Chalk-a-Word by SimplyFun
Geologic by ThinkFun
Glow in the Dark Floor Puzzles: by Hape
Minecraft Biomes by Ravensburger
Happiest Day by Funko Games
SavannaScapes by SimplyFun
T.A.P.E.S. by Hog Wild Games
Trivia: Science, Animal and Geography by MindWare
Word Heist by Gamewright
VENN by USAopoly
Each holiday season, millions are spent on kids' toys, games and books. These PAL winners above are not only great fun but also encourage rich language development. Think "tastes like ice cream, fortifies like spinach," optimizing your toy purchases to build language while maintaining all the fun. Now's the time to be intentional about your child's toy chest, game drawer, bookshelf and tablet!
ABOUT PLAY ON WORDS
Playonwords.com was founded by well-respected speech-language pathologist, Cardamone. Her 16 years championing language rich play, esteemed PAL Award, popular blog, and insightful tips to parents set her apart as the leading advocate for the language component in toys.
Thousands of hours working directly with children has shown her that a unique set of the best toys, games and books have the capability to develop language while delivering great play. Studies show:

Kids with highest IQs at three, had the most words at one and two
Language learning is cumulative – early words => early sentences => language & reading
Most kids maintain their verbal advantage through childhood
Creative pretend play that sparks story-telling can advance future literacy
The PAL Award identifies unique toys, games and books that through their design, quality and character, encourage play that advances language. PAL winners in the hands of kids, spark fun and creative play with lots of talk. Such toys, recognized on the basis of her child development expertise, are complemented by practical coaching in her blog, showing parents and caregivers how to get the most from toys, games and books to build language and underlying cognitive skills.