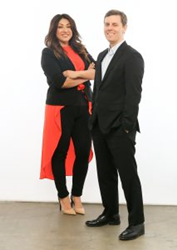 "Collaboration is key," says McNeil and Avila, "these awards reflect how truly working as a team brings more ideas, gets more accomplished, and brings more solutions to our clients."
PETALUMA, Calif. (PRWEB) November 29, 2022
Revered industry publication Employee Benefit News (EBN) bestowed the national 2022 Excellence in Advising Award on Arrow Benefits Group (ABG) Senior Benefits Advisors Andrew McNeil and Rosario Avila for their ground-breaking work in enhancing communication among diverse workforces. The 2022 EBN Excellence in Advising Award is the third national award Avila and McNeil have received for their collaborative efforts. The two launched the Power of Two initiative to work together on behalf of Arrow, inspired by their desire to innovate client and prospect relations, the unique two-person advising style personalizes the benefits process and brings more options to the table.
Other accolades for the duo include being named the first joint winners of Employee Benefit Adviser (EBA) Adviser of the Year award, EBN Digital Innovator, and recognition for their work developing the Arrow YouTube channel, BenefitsTV and Spanish Division, Alianza, as well as numerous individual awards. "Collaboration is key," says McNeil, "these awards reflect how truly working as a team brings more ideas, gets more accomplished, and brings more solutions to our clients." Avila adds, "We know that we are much stronger when we pull together to achieve our goals and support our clients and community." McNeil and Avila have worked together for over 5 years and share the same work ethic and process when it comes to creating solutions.
Employee Benefit advising is a highly competitive industry, often keeping teams apart and isolated, yet Arrow empowers its team members to collaborate in any way necessary to best serve the client. They specialize in providing national resources delivered by a local team – and that team sets Arrow apart. "Each member at ABG plays an important role in delivering the service our clients have come to expect," says Joe Genovese, Arrow's CEO and Managing Principal, "everyone at Arrow plays a part in building a successful team and can take great pride in winning the EBN 2022 Excellence in Advising Award."
About Arrow Benefits
For more than 30 years, Arrow has been a true partner to employers by delivering employee benefits expertise, service excellence, and strategic consulting designed to meet the unique needs of their clients. In 2019, Arrow Benefits Group co-founded Patriot Growth Insurance Services (PGIS), which is now one of the largest benefits consulting and brokerage networks in the country. Patriot and Arrow are aligned with TRUE Network of Advisors, a national collaboration of independent agencies and brokerages. For straight answers to employee benefits visit http://www.arrowbenefitsgroup.com, contact Andrewm@arrowbenefitsgroup.com, 707-992-3789.
About Employee Benefit News
EBN is a dynamic resource for professionals and decision-makers engaged in the Human Resources, Employee Benefits, and Workplace Culture arenas. Owned by Arizent, EBN offers news and insights to its readers who include HR leaders, Talent Recruiters, Benefits Managers, and others engaged in the business of improving the employee and employer experience.
ABG on Social:
https://www.linkedin.com/company/arrow-benefits-group/
https://twitter.com/ArrowBenefits