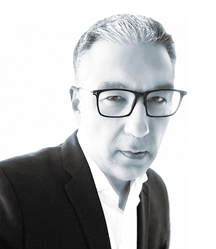 Omur is the right leader for CNE, demonstrating himself as an innovative and transformational entrepreneur.
PEABODY, Mass. (PRWEB) November 30, 2022
CNE Direct, a global full-service IT lifecycle company, today announces that Omur Bagci has been named as Chief Executive Officer. Jerry Quill, who has held the position of Chief Executive Officer since 2017, will continue as Chief Financial Officer.
A proven leader with over 20 years of experience in solving complex value chain optimization challenges, Omur most recently served as Chief Operating Officer at CNE. His prior leadership positions include Vice President and General Manager at Arrow Electronics and Director of Business Development at Converge. Omur is also Founder and Chairman of Echonos, an innovative software-as-a-service (SaaS) platform that digitally governs the value optimization lifecycle for the largest technology brands.
"I am pleased to announce the appointment of Omur Bagci to the position of Chief Executive Officer at CNE Direct," stated Paul Knight, Founder and Chairman, CNE Direct. "Omur is the right leader for CNE, demonstrating himself as an innovative and transformational entrepreneur, guiding CNE to fulfill our mission of being a prescriptive, full-service IT lifecycle partner for technology driven companies. With Omur's appointment to this key role, we are committed to our digital strategy bolstered by our demonstrated customer focus."
"I would also like to personally thank Jerry Quill for his contributions, professionalism and leadership in guiding CNE over the past five years, which included a challenging warehouse fire and pandemic," added Paul Knight. "Jerry will continue to contribute to CNE's success in the role of Chief Financial Officer."
About CNE
CNE Direct is a full-service IT lifecycle company focused on helping the world's most recognized brands recover value from their IT assets, securely and responsibly. With flexible solutions leveraging technology, processes, and business intelligence, we deliver the right mix of services focused upon delivering exceptional results and value returned. For more information visit http://www.cnedirect.com, or follow us on LinkedIn at https://www.linkedin.com/company/cne-direct-inc-