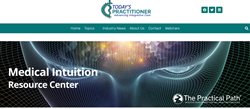 The Medical Intuition Resource Center at Today's Practitioner is an exciting new hub for integrative healthcare providers who are interested in the emerging field of medical intuition.
LOS ANGELES (PRWEB) December 06, 2022
Wendie Colter, MCWC, CMIP, founding president of the National Organization for Medical Intuition (NOMI) is pleased to announce the launch of the Medical Intuition Resource Center at Todays' Practitioner. The new resource center, created in partnership with Today's Practitioner and curated by Colter, provides the first hub for both those practicing medical intuition and healthcare providers interested in this new perspective in mind-body wellness. The Medical Intuition Resource Center answers the growing demand for accessibility of the latest studies and research, information for integrative healthcare providers, and other related content. Today's Practitioner has been an information resource for the integrative healthcare industry since 2013. Colter, whose own ground-breaking research in medical intuition has been published in the Journal of Integrative and Complementary Medicine (formerly Journal of Alternative and Complementary Medicine); is the author of Essentials of Medical Intuition: A Visionary Path to Wellness, published in 2022 by Watkins Publishing/Penguin-Random House; and is founder/CEO of The Practical Path, Inc. offering the accredited Medical Intuitive Training™ Practitioner Certification Program–intuitive development for wellness professionals.
For more information, contact The Practical Path, Inc.: info@thepracticalpath.com
###