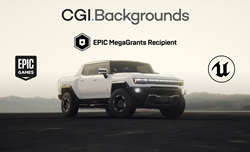 We want to empower 3D artists with an entirely new approach to accessing HDRIs and backplates from within their creative workflow
DETROIT (PRWEB) December 13, 2022
CGI.Backgrounds has launched the CGI.B connect app in a closed Beta. The app, which is supported by an Epic MegaGrant, enables 3D designers to integrate 8,000+ premium HDRI maps and skies into Unreal Engine, simplifying the process of creating immersive 3D environments.
"We want to empower 3D artists with an entirely new approach to accessing HDRIs and backplates from within their creative workflow," said CGI.Backgrounds CEO Randal Cumming. "The CGB.B Connect app lets 3D designers explore, compose and create their 3D models in photographic scene builds or optimize lighting of full-CG scenes in real-time immersive productions."
CGI.Backgrounds uses innovative technologies to capture real-world locations, transforming them into high-resolution HDRI maps for the creation of immersive 3D environments, product rendering, architectural visualization, and virtual production.
The company currently works with global brands and automotive companies. The CGI.B Connect app, as well as a new subscription-based pricing model and redesigned website, will expand access to CGI.Backgrounds' premium HDRIs and backplates to smaller agencies, freelance 3D designers, students, and hobbyists.
The company's new subscriptions include a Free tier as well as low-priced offerings with monthly payment options. Using the CGI.B Connect app as a bridge, designers can easily integrate CGI.Backgrounds' HDRI maps, skies, and other content directly into Unreal Engine.
Designers can apply for access to the CGI.B Connect closed beta by contacting ben@cgibackgrounds.com The app will launch in an open Beta in 2023. More information on CGI.Backgrounds' subscriptions is available on the CGI.Backgrounds website.
About CGI.Backgrounds
Launched in 2004, CGI.Backgrounds provides a premium library of HDRI environments, maps, and skies captured from real-world locations, from the deserts of Monument Valley to the streets of Tokyo. CGI.Backgrounds' high-resolution scene captures are ideal for 3D design, product rendering, architectural visualization, and virtual production. CGI.Backgrounds' library is available to search and download via the CGI.Backgrounds website and the CGI.B Connect app.