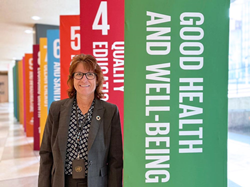 "Nurses are often on the front lines of health care serving people when they are most vulnerable. That's where I want to be," Hawkins says.
NORFOLK, Va. (PRWEB) December 12, 2022
From the front lines of healthcare to educating the next generation, Janice Hawkins, a Clinical Associate Professor at Old Dominion University, PhD, RN, is no stranger when it comes to serving a healthier world.
As a healthcare advocate, Hawkins shared her nursing expertise in health promotion and health policy on November 17-18, 2022, at the CARICOM Initiative, Two Risk Factors, Too Many Diseases, where she promoted the roles of nurses in contributing to better oral health equity and oral health care access. This seminar was sponsored by FDI World Dental Federation and The Bahamas Dental Association, to bring together six countries to discuss key opportunities to improve health and wellbeing in the region.
According to Journal of Nurse Practitioners, incorporating oral health education and providing experiences to develop interprofessional collaboration skills can be challenging. During the seminar, Hawkins continued to encourage all nurses to become Colgate-Palmolive Bright Smiles, Bright Futures Oral Health Equity Leaders, through the free online training via Sigma Theta Tau International Honor Society of Nursing (Sigma).
As a United Nations Liaison for a nonprofit organization, Hawkins upholds their mission to advance world health and celebrate nursing excellence in scholarship, leadership, and service. As a liaison, her roles include promoting the sustainable development goals such as good health and well-being and reducing inequalities.
Hawkins innovative thinking allows her to collaborate with world leaders to promote the value of nursing leadership beyond ODU's campus.
Recently, Hawkins accepted presidency as the current president of Sigma's Epsilon Chi Chapter at Old Dominion University in June 2022.
As a program director for the Nurse Executive Doctor of Nursing Practice (DNP) concentration at ODU, Hawkins leads a program that focuses on executive leadership skills for nurses. She is also the Director of Community and Global Initiatives where she transforms graduates into providers and administrators in the healthcare field. She engages with her students online while advocating for the use of health care technology, building leadership, and sharing the impact of climate change.
In the classroom, her students develop advocacy skills which help them navigate health policy changes. She says, "Our students are often working full-time jobs or have family responsibilities." ODUGlobal's education provides the flexibility they need to advance their careers, including oral health content in the nursing curricula.
"As a nurse, I've had many opportunities to make a difference in people's lives and to make this a healthier world for everyone," Hawkins says. "Nurses are often on the front lines of health care serving people when they are most vulnerable. That's where I want to be."
Advocating on the front line in health care is not an uncommon practice for Hawkins, who served her country as an Army Nurse (Retired). Hawkins is a highly skilled and trained healthcare professional who has gone above and beyond her uniforms to serve in her purpose, mission, and passion to make a difference in peoples' lives.
Hawkins shares her nursing expertise in health promotion, global health, climate change and health policy. As an advocate for global change, her presence and leadership at Old Dominion University positively impacts the success of students, faculty, and populations around the globe.
Old Dominion University, located in the coastal city of Norfolk, is Virginia's entrepreneurial-minded doctoral research university and has been delivering distance-learning programs for 35 years. It offers more than 120 programs through ODUGlobal in a variety of formats, allowing students to complete degree programs across the world. ODU serves more than 24,000 students annually by providing the same rigorous academics online and on-campus. Learn more about ODUGlobal's programs by visiting online.odu.edu.