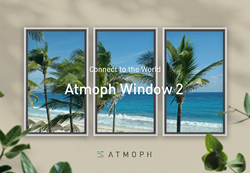 Atmoph is also planning on releasing more content for those users who want to be connected with even more worlds.
KYOTO, Japan (PRWEB) December 01, 2022
For anyone who's thought their room was a little small, dreamed about relaxing in a house by the sea, or thought they'd like to see what it's like to live in a highrise apartment, the Atmoph Window 2 allows them to make those fantasies a reality in an instant. With Atmoph's 1,400 original Views, from the fall colors in Kyoto to gorgeous beaches from all over the world, anyone can enjoy traveling around to all kinds of places from the comfort of their own room.
With increasing demand from outside Japan, Atmoph is looking to make it easier for anyone to get a hold of the Atmoph Window 2. As such, for those living in the US, Atmoph has begun selling through Amazon in the United States, with delivery possible in immediate shipping.
Three Great Things about the Atmoph Window 2
1) Continuing updates give a look into the near future and fantasy worlds
In addition to the Views from around the world, Atmoph also offers looks at things no one has ever seen before in real life, like looks into deep space and video game worlds. Atmoph is also planning a project for the worldwide hit Netflix series "Stranger Things". The first teaser trailer (https://atmoph.com/en/strangerthings) was released on Stranger Things Day on November 6, 2022 (PST), and quickly went viral on social media.
Atmoph's past releases also include content from "DEATH STRANDING" (https://atmoph.com/en/products/deathstranding), the much beloved game from creator and director Hideo Kojima, as well as their in-house original CG work set in the Kyoto of the future, "Shin Kyoto". Atmoph is also planning on releasing more content for those users who want to be connected with even more worlds.

2) The excitement is always evolving through updates
The Atmoph Window 2 is constantly evolving through software updates. Beyond just the Views, the Atmoph Window 2 is also equipped with the Daily Routines function, which is integrated with Google Calendar to allow users to set alerts on certain days and times, adding a bit of convenience to users' everyday lives. In November of 2022, Atmoph also added Apple Watch functionality and the much requested Device Lock. For more details, click here. In the future, the company is looking to add integration for smart speakers, and other new handy functions for users' daily life to make using the Atmoph Window 2 an easier and more convenient experience.
3) Customization to match any room and any lifestyle
Atmoph Window 2, in addition to the single device setup, can also link up three devices together to create panoramic views in Panorama mode. With Panorama, boats, cars and pedestrians will move from window to window and give a true sense of depth and realism. From one unit over a desk to three on a spacious wall, users can choose the setup to best match the size of any room or space.
Users can also enhance the experience with optional modules, such as the LED Light Module to enjoy soft backlighting, the Camera Module for gesture control support and the Atmoph Remote for operation with the touch of a button. There are plenty of options for everyone to choose to fit any lifestyle.
About Atmoph Window 2
Atmoph Window 2 brings a sense of freedom and relaxation to rooms with over 1,400 original Views all shot in either 4K or 6K resolution with surround sound. Atmoph received a total 100 million yen in funding through crowd funding campaigns via Indiegogo and Makuake in 2019.
■ Product Details
Product: Atmoph Window 2 [Basic]
Price: $549.00
Spec: 27-inch high-contrast display (1920x1080, anti-glare)
Size: 25.1" x 14.6" x 2.6" (638 x 372 x 57mm)
Weight: 9.9lbs (4.5kg)
Wi-Fi: 802.11 ac/b/g/n (5GHz/2.4GHz)
Bluetooth: 4.0
Online Store: