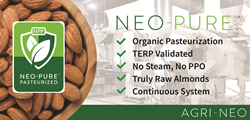 We are excited to provide a new pasteurization option to the California almond industry. Since Neo-Pure does not rely on steam or fumigation, Neo-Pure pasteurized (NPP) almonds maintain their natural quality, just as nature intended
TORONTO (PRWEB) December 02, 2022
Agri-Neo is pleased to announce that the Neo-Pure continuous food safety system, and organic pasteurization process at their Toronto Headquarters, have been validated by an ABC-approved Process Authority with agreement by ABC TERP that the Neo-Pure Food Safety System equipment and conditions used in the study demonstrate an ability to meet ABC's criteria of a minimum 4-log destruction of Salmonella bacteria on whole brownskin almonds. Agri-Neo's food safety science studies and third-party test results showed Neo-Pure meets ABC's criteria of a minimum 4-log reduction of pathogens on California almonds.
"We are excited to provide a new pasteurization option to the California almond industry," said Rob Wong, President of Agri-Neo. "Neo-Pure keeps almonds truly-raw. Since it does not rely on steam or fumigation, Neo-Pure pasteurized (NPP) almonds maintain their natural quality, just as nature intended. Our almond handling and processing partners have been waiting for some time, and we are thrilled to set up Neo-Pure at their sites. We are proud to set a new food safety standard for the California almond industry."
By law, all almonds grown in California and sold within the United States, Canada, and Mexico are required to undergo pasteurization using a validated process that has been accepted by ABC TERP. Traditionally, almonds are pasteurized using propylene oxide (PPO) fumigation or steam process, but there can be drawbacks. Neo-Pure effectively inactivates pathogens using a patented blend of organic actives that completely biodegrades during the process. It is approved by the FDA as a processing aid, and therefore labeling on packaging is not required. It is also certified organic by the USDA National Organic Program. Neo-Pure is suitable for both organic and conventional almonds. The Neo-Pure Pasteurization (NPP) process takes place in a fully-integrated continuous food safety system.
"Neo-Pure is a proven pasteurization technology for California almonds," said Dr. Fadi Dagher, Biochemistry Director of Agri-Neo. "Neo-Pure is the only TERP-validated pasteurization technology validated using two surrogate bacteria: Pediococcus acidilactici and Enterococcus faecium. The use of surrogate bacteria in food safety is considered a critical component in food safety technology validations. Neo-Pure has successfully demonstrated the required minimum 4-log pathogen reduction on these two surrogates for Salmonella."
Agri-Neo's Neo-Pure is the food safety technology of choice for a wide range of low-moisture foods. From chia seeds in Paraguay to dried onions in California, Neo-Pure has been solving food safety problems for many industry-leading companies.
About Agri-Neo
The Agri-Neo mission is to help safely feed the world by creating technology that sets new food safety standards. Neo-Pure™, developed by Agri-Neo, eliminates harmful pathogens such as Salmonella, E. coli, and Listeria while maintaining the nutrition and quality that flourishes naturally in food. Agri-Neo has a dedicated team of food scientists, researchers, and engineers to launch more food safety solutions for many high-risk food groups in the future. For more information, visit http://www.agri-neo.com.