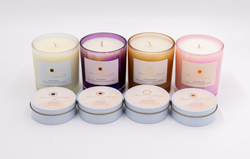 I designed these candles with wellness in mind. These candles are reminders for us to cultivate space and self-care on the stage of our own lives for us.
CARLSBAD, Calif. (PRWEB) December 01, 2022
Lisane Basquiat's Shaping Freedom and Shaping Sanctuary health and wellness spaces are devoted to offering the tools necessary to achieve peace and serenity. Basquiat's latest offering, the Shaping Sanctuary Candle Collection introduces four distinct scents that calm, uplift, cleanse and recharge. The candles are currently 25% off until Friday, December 2nd at 11:59 p.m. PST as part of Shaping Sanctuary's sitewide holiday sale (HERE). The candles can be purchased individually or in sets. Pricing begins at $19.
Carefully curated and made with sustainably harvested coconuts, soy, and apricot oil, steam-distilled and cold-pressed essential oils, the hand-poured candles available as 3.5 oz and 11 oz sizes have a transformative effect.
Each of the candles is affirmingly named after a state of wellness. "Activated," made with citrus, clove, eucalyptus, and patchouli, generates a calming and uplifting atmosphere. "Aligned," which includes notes of palo santo, orange, frankincense, and amber, clears and purifies the air with the spirit of sacral chakra. "Congruent," mixed with green lime, dewy bamboo, and jungle moss, promotes relaxation and meditation. "Soothed," containing lotus, lemongrass, basil, and neroli orange blossom oil, helps clear the mind.
Basquiat describes the candles as a labor of love. "I designed these candles with wellness in mind," she says. "These candles are reminders for us to cultivate space and self-care on the stage of our own lives for us. Whether your sacred time comes in the form of reading a book with a hot cup of tea, journaling by candle light, meditating, stretching on your yoga mat or relaxing in a beautiful bath. It's the little rituals like these that bring self-connection, peace and enrichment to your everyday life."
Basquiat's Shaping Freedom With Lisane Basquiat podcast is the perfect compliment to the Shaping Sanctuary Candle Collection and helps soothe the mind, emotions, and soul.
On Episode 40, "A Pathway to Forgiveness with Dr. Robert Enright," Dr. Enright shares insights from his 37 years of research on the liberating powers of forgiveness. Jadah Sellner, coach, TEDx speaker, author and entrepreneur, discusses her book "She Builds: The Anti-Hustle Guide to Grow Your Business and Nourish Your Life" on Episode 40, "How to Avoid Burnout While Building Business." The latest episode features an interview with Keith Mitchell, a former professional NFL player who transformed into a meditation, yoga, and mindfulness teacher focused on sustainable living practices and whole body health amongst many exciting others.
Basquiat is excited about the new season of the podcast. "We've elevated the conversation to hone in on today's struggles and the growing desire for personal transformation," she says. "This is an inordinately challenging chapter in our society. Our focus this season is to meet our audience exactly where they are by providing meaningful conversations about the topics of uncertainty, grief, burnout, forgiveness, boundaries, and how to contribute to familial legacy in a positive way."
Listen to the Shaping Freedom With Lisane Basquiat on the Shaping Freedom website (HERE) as well as podcast platforms Apple Podcast, Spotify, Stitcher, and iHeart Radio.
About Lisane Basquiat
Board Certified by the Association of Integrative Psychology, Lisane Basquiat is a Master Practitioner of Mental and Emotional Release® (MER) Therapy, a Master Reiki Practitioner, an Accredited Energy Leadership Coach and founder of the personal growth company Shaping Freedom®. The former corporate executive has been a certified coach since 2004.
Shaping Freedom® provides the tools for self-improvement every day at Hera Hub Carlsbad. In 2017, Lisane became the owner of the co-working space and community for empowering female entrepreneurship.
Motivating others to seek the change they desire runs in the Basquiat family. Lisane was born in Brooklyn to a Puerto Rican mother and a Haitian father who emigrated to the U.S. by himself at the age of 17 in the midst of a genocide. Lisane and her sister Jeanine Heriveaux work to maintain the legacy of their late brother, the renowned artist, Jean-Michel Basquiat, as co-executors of The Estate of Jean-Michel Basquiat.
Connect with Shaping Freedom, Shaping Sanctuary and Hera Hub Carlsbad
Shaping Freedom Website:
https://shapingfreedom.com/
Shaping Freedom Instagram:
https://www.instagram.com/shapingfreedom/
Shaping Sanctuary Website:
https://shop.shapingsanctuary.com/
Shaping Sanctuary Instagram:
https://www.instagram.com/shapingsanctuary/
Hera Hub Carlsbad Website:
https://herahub.com/carlsbad/
Hera Hub Carlsbad Instagram:
https://www.instagram.com/herahubcarlsbad/