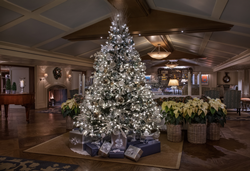 "We are delighted to celebrate festive season with design visionary Barclay Butera! Barclay's aesthetic perfectly complements Shutters' classic beach house style," said Christophe Baraton, General Manager of Shutters on the Beach.
SANTA MONICA, Calif. (PRWEB) December 01, 2022
The holidays officially arrived in Santa Monica, when Shutters on the Beach unveiled its seasonal transformation featuring holiday décor and boutique by renowned interior designer and arbiter of Southern California style, Barclay Butera. Butera reimagines the Shutters entrance and oceanfront lobby as a chic holiday wonderland, dressed in glittering décor custom-designed exclusively for the hotel. Complementing the lobby transformation is a new Barclay Butera Boutique at Shutters on the Beach for the month of December.
"We are delighted to celebrate festive season with design visionary Barclay Butera! Barclay's aesthetic perfectly complements Shutters' classic beach house style," said Christophe Baraton, General Manager of Shutters on the Beach. "We look forward to welcoming our guests and neighbors to our beachside wonderland."
Guests will be awed upon arrival as they are greeted by an illuminated coral tree wrapped in sparkling lights. A holiday glow is cast from the lush landscaping as thousands of miniature white lights.
Photo opportunities abound at the hotel entrance as regal nutcrackers stand tall, hand- painted in Shutters' signature blue and the dazzling "Shutters Sleigh" surrounded by snow-kissed silver crowns and Christmas trees beckoning you to climb in.
Inside the lobby, a nine-foot noble fir Christmas tree sparkles with thousands of lights and hundreds of hand-blown sea inspired glass ornaments. Elegant magnolia wreaths and garland fill the lobby. Hand woven into cascading garland, the leaves are accentuated by white flowers. Pillows in rich patterns, textures and fabrics, complement all seating with ultra-soft luxurious throws for extra comfort.
Just beyond the lobby, the public is invited to shop this exquisite holiday look at the Barclay Butera Boutique, a chic jewel box of eclectic home décor, situated on the ground floor of the hotel. The boutique features furnishings from Barclay Butera's collection for Lexington Home Brands, alongside an assortment of hand poured candles, diffusers, one-of-a-kind shell and coral pieces, handblown glass in distinct shapes, blue and white ginger jars, signature picture frames, pillows and throws, bar accessories, bathroom accessories, original art, baskets, totes, and more. The Barclay Butera Boutique is open seven days a week, 10:00am to 8:00pm.
"It has been a pleasure to partner with Shutters on the Beach to curate a space where guests can celebrate the season and create lasting memories," said Barclay Butera, owner of Barclay Butera Interiors. "Bringing the spirit of the holidays to this exquisite setting excites me and is truly special. The inviting and magical energy here make Shutters the perfect venue for any holiday getaway or event."
After picking up a holiday gift or design accent for one's home, guests and locals alike are invited to gather for pre-dinner drinks or evening nightcap by the fireplace in the lobby Living Room, accompanied by live entertainment nightly; a casual lunch at Coast; or dinner and weekend brunch at Shutters' signature restaurant, 1 Pico.
For more information about Shutters on the Beach or to book a stay, please call 866.527.6612 or visit http://www.shuttersonthebeach.com.
###
About Shutters on the Beach
Both comfortable and luxurious, the acclaimed Santa Monica Beach hotel recalls the quintessential cottages of Cape Cod, with shuttered doors opening onto breezy balconies and a sun-drenched pool deck replete with chaise lounges. 186 gracious guestrooms and 12 suites showcase the residential-style designs of Michael S. Smith. On site, Shutters on the Beach offers market-fresh fare at 1 Pico restaurant and Coast Beach Café. Indulge in organic wellness rituals at ONE Spa and breathtaking panoramas of the Pacific from every vantage. For more information visit https://www.shuttersonthebeach.com/.
About Edward Thomas Collection
The Edward Thomas Collection of Hotels was founded in 1982 by third-generation hotel and real estate investors Edward and Thomas Slatkin, whose family previously owned the legendary Beverly Hills Hotel. In 1994, Beverly Hills-based ETC opened the exclusive Shutters on the Beach in Santa Monica. In 1999, after a $50+ million renovation, ETC opened a hotel with a history as Santa Monica's "Grande Dame," Hotel Casa Del Mar. The sister luxury properties are the only hotels in the Los Angeles area located right on the sand. ETC's management team includes Partners and Co-Founders Edward and Thomas Slatkin and Charlie Lopez-Quintana, ETC Collection of Hotels Vice President and Managing Director. For more information visit https://www.edwardthomasco.com.
About Barclay Butera
Since 1994, Barclay Butera has been the creative force behind his iconic design firm and showroom in Newport Beach, California. His success in Newport Beach prompted Butera to establish showrooms in Park City, Utah and Corona del Mar, California. Butera is renowned for his approachable elegance and glamorous, chic interiors. Barclay Butera's inspirations are drawn from a diverse variety of grand architecture from coast to coast, European and Far Eastern influences including everything from high-fashion runways to his world travels. Butera's design signature is distinctive; classic with a fresh twist that is flawlessly integrated into traditional, transitional and contemporary interiors alike. His artful inclusion of heritage pieces that blend seamlessly alongside distinctive furnishings, pattern-on-pattern fabrics and bold textures are all hallmarks of his iconic all-American style. Butera's passion for interior design began decades ago, and has grown into an impressive lifestyle enterprise that is known and sought after around the world today. For more information visit https://barclaybutera.com/.
Media Contact:
Murphy O'Brien Public Relations
shutters@murphyobrien.com